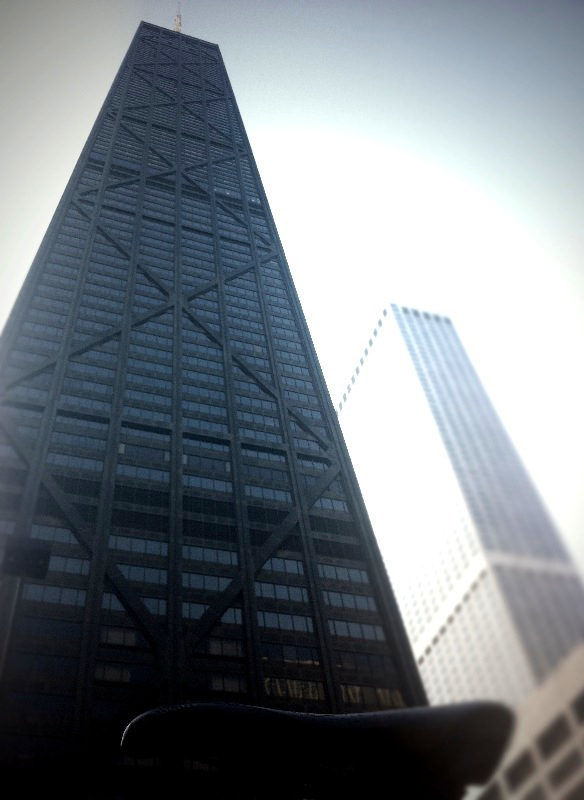 Yep, it's that time of year. Lots of people making resolutions and setting goals. I've never been one to make resolutions, but I definitely set a few goals for myself. Nothing earth shattering; just a few things I'd like to do. However, I've never published my goals before, and I'm thinking this may be a great way to keep myself accountable.
In no particular order, here's what I'm aiming for in 2014:
Climbing 52 flights of stairs. I registered for the half climb of Hustle Up the Hancock, a 52-flight challenge up Chicago's John Hancock Building. (The full 94-flight challenge was sold out or I may have been tempted to register for that one.) The Respiratory Health Association sponsors the event, so I'll be climbing in honor of my mother who died after a severe asthma attack. I have until April 13 to get ready. That's the Hancock in the photo above. Piece of cake, right? RIGHT?
Better self-talk. Not to get too heavy, but I recently read an article that really resonated with me. Basically, it said that we would never speak to our friends the way we speak to ourselves. That little voice in our heads that says we are not skinny enough, or pretty enough, or smart enough…or whatever enough. I'm making a pledge to stop that this year. This one may be harder than it seems.
Ride with no hands. I'm admitting it here now: I can't ride hands-free. Even as a kid, I could never master it. Maybe it was that little voice that I'm no longer going to listen to! It's a good thing I don't race, as my victory celebration would be a lame one-handed salute. So, at this advanced age, I'm finally going to do it — or at least give it my best shot. I'll let you know how it goes.
So that's it. Three attainable goals. Three goals that if when accomplished will improve my physical and mental health. And that's a pretty good thing.
What are you hustlin' for this year?