Glamour Shots
We've officially made Suzanne a part of our Loving the Bike team, and she'll be regularly putting up her beautiful and artistically written ride reports along with a fantastic photo.  I'm so excited.
Glamour Shots
by Suzanne Deveney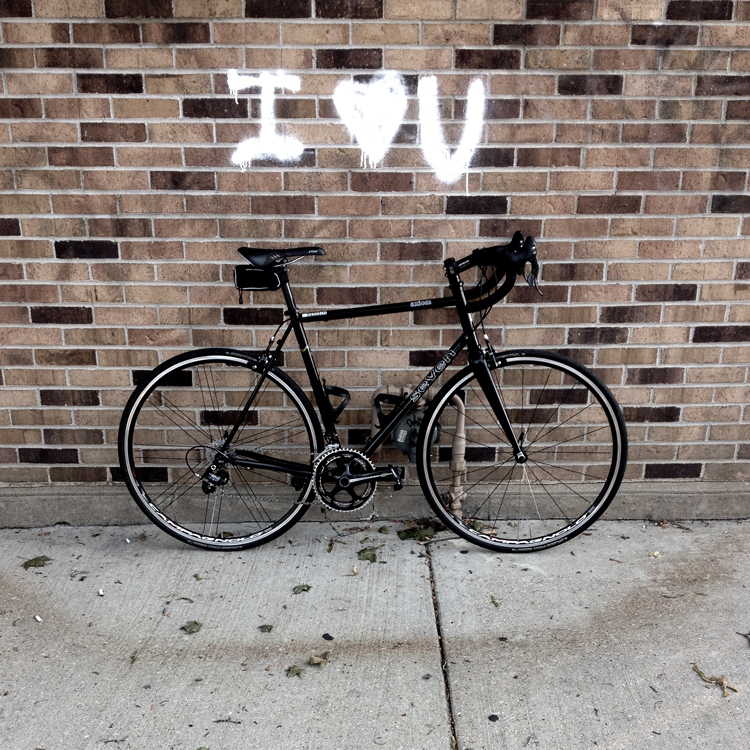 We love our bikes, don't we?
It's a financial investment, whether a $15 yard sale find or a $15,000 racing machine. But it's the emotional investment we make that is far greater.
We belong to an exclusive club, and the glamour shot is our secret handshake. We nod when we see that photo pop up in our timeline. Yes, we all understand.
It's love. It's chemistry. We go to bed thinking about that morning ride, and we awake eager to go. We cruise along a shaded path and we race in a pack. We ride in jeans, in shorts, and in colorful kits. We clip in and we pedal along in flip flops. We ride roads as smooth as a billiard table and single tracks full of twists and turns. And it's inevitable that we will stop along the way.
We pose our bikes in front of oceans, on mountaintops, with graffiti, and near our garages. We angle them "just so" in work stands, on trainers, in our bike rooms, and propped against the coffee shop wall. And of course, we take selfies while in motion.
And then we post them like they are pictures of our children, and we proudly share them with our friends and family. Without words, we say, "Look at my bike. Isn't she fantastic?"
We inspect these posted photos, instinctively swiping the screen to enlarge them. We look closely at cranks, at head badges, and wheels. If there is something particularly unusual or beautiful, we let out a sigh of envy. And there are times when we smile inwardly because we think ours is prettier, better, faster, cooler. But we're polite, because we know. We understand what that bike means.
And so, I stop to take this photo, this glamour shot of the bike I love. This bike that has taken me on fantastical journeys. It's been the catalyst to meet new people. It's given me bravery to go places I would never have gone before.
It's pushed me. Challenged me. Exposed my limitations and shown me endless possibilities. It's made me feel on top of the world. And although it's also frustrated me at times, the outcome of any ride is always feeling better than if I had not ridden at all.
Bad day? Stressed out? Hop on my bike. Need to solve a problem? Come to a conclusion? Need inspiration? Start pedaling.
Works every time. The ultimate magic pill.
Oh yes, I heart you, bike. Now stand still and smile.