Goodfluence Bicycle Tour: Dumpster Diving
I know Rob Greenfield well enough to know that he's not some sort of radical freak…..but by looking at some of the things he does, I'm sure people feel that way about him.
He's pure, he's world changing, and he's passionate about creating more good in the world.  If that's radical, I'm all for it.
While cycling across the Wisconsin leg of his cross country Goodfluence tour, he's focusing on bringing awareness to food waste.  It's a subject close to my soul and I hope his message gets through.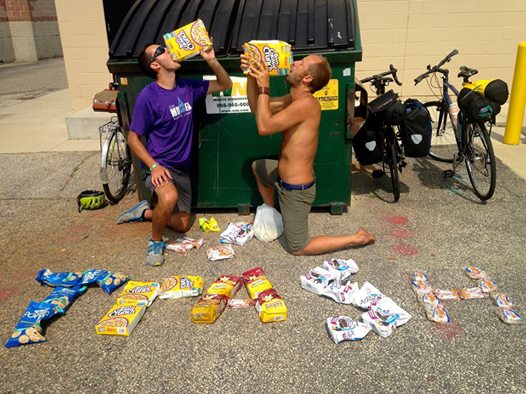 Americas Dumpsters are full of perfectly good food and my childhood friend Dane Gottschall and I are out to show this by bicycling across Wisconsin fueled 100% by food we find in dumpsters.
This might sound crazy but what's even more nuts is that we throw away $165 billion worth of food each year in America which is slightly more than we spend on our entire public education system from kindergarten through university. All this while 1 in 7 Americans are food insecure.
We'll show you that there is so much food in Wisconsin's dumpsters that we can cycle clear across the state powered by these supermarket treasure chests.  Through this adventure we promise to inform you on America's food waste problem in an entertaining and inspirational manner while giving simple tips on how you can be a part of the solution.
Dane is a dumpster diving virgin / middle school teacher and I'm a dumpster diving professional / adventurer and we are both Wisconsin natives.  I'm currently cycling across America from San Diego to NYC on The Goodfluence Tour and Dane is joining me for my leg across Wisconsin.
We'll cycle about 250 miles over the week dumpster diving the whole way, meeting locals, taking people on dumpster diving field trips, and hosting little dumpster dinners and potlucks in some of the cities.  All of this to raise awareness about food waste in a fun and enjoyable manner while inspiring individuals to be a part of the solution.  You can follow the adventure on this blog, as well as on my facebook page.  If you would like to get a hold of me directly to get involved, email me at [email protected].
– Rob Greenfield
Bike2Power Powers Rob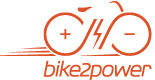 What is Bike2Power, well after knowing about them for the past couple years this is what I know.  They are passionate about cycling, they focus on providing cycling products that are helpful to the world, and they are fun loving people.
I've said several times that I love working with positive, easy going people….especially when they dig bikes.  It's a pleasure having Bike2Power as a sponsor and partner at Loving the Bike, and it's been great having them support Rob Greenfield and his Goodfluence Tour across America.