Grenada Destinations by Bicycle
I've written about cycling Grenada by road bike and mountain bike, but have never really talked much about specific destinations to ride to while on the island.
Okay, so if you're looking for some cool places to ride to on this island of spice….I've got a few of the best.  Of course with Grenada being incredibly hilly, I'll rate each ride as to level of difficulty and include any other things to watch out for.
Top 5 Destinations to Cycling to in Grenada
1. 1910 – Grand Etang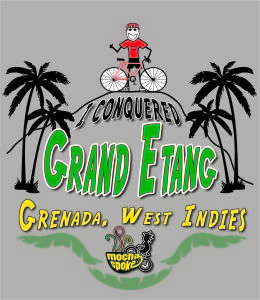 Rating: Insanely intense
The highest point that you can ride a bike to on this island is 1910 feet above sea level.  Basically this is the area of Gran Etang…..and believe me, it is way up there.  I've only ridden it once, and I can honestly say that I don't want to do it again.  But I do recommend that any of you hardcore cyclists give this one a go.
The entire ride has quite a significant incline, with a few insanely steep sections as well.  Just keep on going and as you come around each sharp corner, don't be expecting to have reached the top just yet.  Eventually you'll get there.
2.  Grenada Marine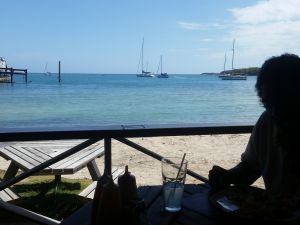 Rating: About as easy as it gets in Grenada
Do you like boats, beaches, and good food?  Well, this location has it all built into one cool location.  Grenada Marine is so much more than a boatyard and marina.  Located directly on the beach it is home to some amazing viewpoints and great swimming.
The Galley at Grenada Marine is the name of the restaurant and they serve up local and international favorites.  I suggest riding over to The Galley for lunch and a couple beers, going for a swim, and then riding back.  An easy ride and a worthwhile destination.
3.  Belmont Estate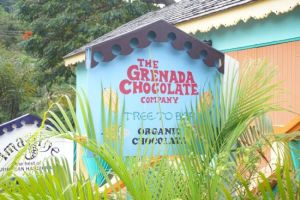 Rating:  Intermediate
Okay, so this ride is about 40kms each way if starting from the Grand Anse area….but it will be some of the toughest kms you've ever put on.  Yeah, the first half of the journey isn't too bad, but there are a few sections that include some pretty serious climbs.  But the good news is they aren't overly long climbs.
But Belmont is a destination that you'll really enjoy, and you'll feel so good about yourself for doing it on a bike.  Belmont is where the majority of the island's cocoa is grown, and it's used to manufacture local Grenadian chocolate.
Be sure to check in with my boys Kelly or Mechak, and they'll give you the grand tour and provide some chocolate samples and cocoa tea.
4.  Clark's Court Rum Factory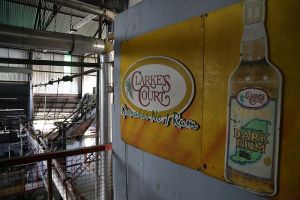 Rating: Pretty easy
This is the shortest distance of the destinations on my list….that is if you're riding from Grand Anse which I'm assuming most people will be.
Clark's Court is one of the local rum factories and located near Woburn.  They provide public tours and will let you sample their product as well.  Don't kick back too many shots or that short ride home might get a little swervey.
5.  Mango Bay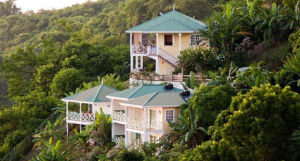 Rating: Intermediate
The road along the island's west coast pretty much hugs the ocean all the way.  Yeah, this makes for one amazing view while riding….but I find the road conditions not as great as those on the east coast.  It's still something you can take on a road bike, but just be sure to watch for ruts and holes.
Part of the way up the west coast, is a place called Mango Bay.  Keep an eye out for the turn off sign or you're totally going to miss this little hideaway nestled in a lush garden on a cliff.
Mango Bay is home to vacation cottage rentals and the island best vegetarian restaurant.  If you're wanting to eat when you get there, be sure to call ahead as the restaurant is only open by reservation.  But I highly recommend you reward yourself for doing the ride with one of their amazing vegetarian pizzas.
Try to time this ride so you're riding back home as the sun is starting to drop down into the ocean.  Beautiful.