Mike Gascoyne is one of the most renowned technicians in Formula One, but his team over at Catherham Composites are set out to make other things lighter, stronger, faster, and more efficient….including bikes.
I honestly had never heard of Mike or Catherham before last week, but when my friends from Sailing School Grenada told me they were sailing out to welcome his voyage to this island…and mentioned something about bikes, I became interested.  This was Mike's first ever solo transatlantic voyage so it was very big news.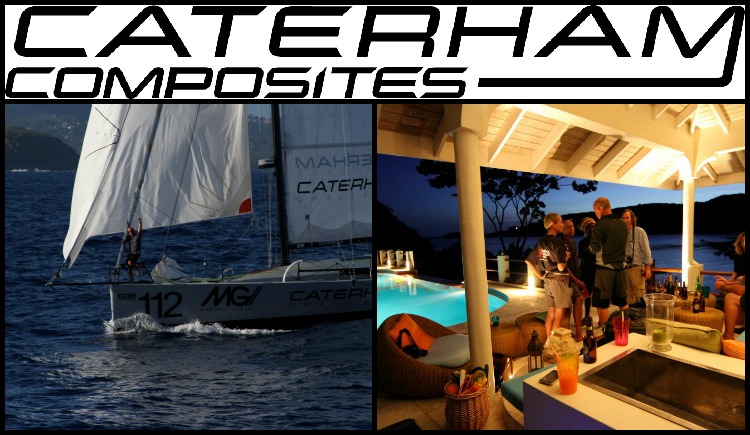 He arrived late Friday afternoon and successfully completed his first solo crossing from Europe to the West Indies.
Mike Gascoyne is the CEO and Chief Technical Officer of Caterham Technology and Caterham Composites, experts in unrivalled lightweight structural solutions.  They are most famous for their work in Formula One, but also work in the industries of Aerospace, Marine, and Automotive.  But designing lightweight and strong ways to make things more efficient falls right in line with our bicycle industry as well.
Many of his team are into bikes and they've also experimented in building carbon bike frames.  Keep your eyes out for this company and what it just might do in the bicycle industry in the future.
When asked about his solo journey, Mike said: "Through the partnership Caterham Composites has with Alex Thomson Racing we are already bringing our expertise to the marine industry and this is a very good chance for us to show that we not only work in Alex's world, we actively take part in it."
Mike Gascoyne Bio:
Mike is one of the most renowned technicians in Formula One and has carved out an illustrious career at the pinnacle of international motorsport for over two decades.  Having studied for a Ph.D. in fluid dynamics at Cambridge University throughout the 1980s, Mike's passion for motorsport took him into the world of Formula One for the first time in 1989 when he joined the McLaren team.  Since 1989 Mike has continued working at varying teams and currently holds the position of Group Chief Technical Officer, with overall technical responsibility for all Caterham Group activities.