Headwater Cycling Tours


Here at LovingTheBike Towers we are very proud of the knowledgeable and dedicated community that we have built up who contribute to posts, questions and discussions. As well as 'The Boss', we have a small but dedicated team of eager contributors and as the site has grown in popularity we have seen a beautiful 'changing of the guard' as to how this community is valued by the cycling media world. As our 'value' has increased, this wonderful site is now seen as a popular vehicle for other companies to reach you as a cycling lover and we are very proud to be able to tell you about Headwater Luxury Walking & Cycling Holidays.
We're all going on a summer holiday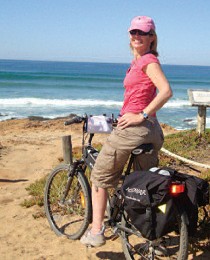 Having had 26 years of experience in the travel industry, Headwater Luxury Walking & Cycling Holidays (from now on known as Headwater!) is a UK based travel company that focuses on cycling, walking and also canoeing holidays. The list of destinations that Headwater cover range from; Europe, the Mediterranean, and East Asia to the Caribbean and North America meaning that they truly are a global company able to assist you in a memorable holiday to almost anywhere in the world.  I think taking one of Headwater's cycling holidays in France sounds pretty good right about now.
The way that Headwater orientate their holiday packages, and specifically their cycling trips, mean that rather being a tourist aimlessly seeking out the next shiny thing to look at they want you to visit as a traveller and to feel part of the local community. I think if we are all honest with ourselves, feeling a part of our surroundings is something that is truly wonderful about cycling.
Headwater holidays are all about getting you to places you can't go in a car and, as such, are much more environmentally friendly than traditional "fly and flop" fortnights on the beach! In fact, last year, Headwater walkers hiked a staggering 462,000 kilometres; our cyclists pedalled an amazing 520,000 kilometres; our canoeists paddled an impressive 9,000 kilometres, and our dedicated cross country skiers notched up a further 39,000 kilometres. That makes a record-breaking total of 1,030,000 carbon neutral kilometres in just 12 months!
Headwater cycling tours will provide you with a professionally serviced bike and all the required equipment you'll need for the trip including detailed maps and route notes as you guide and also move your luggage to each new hotel as you travel along your route. They state that they, "believe [the] bikes to be the best on the market" however if you are a keen cyclist and enjoy spending your hard earned wonga on bicycles, I imagine you may find these bikes to be less than that but if you wanted a carbon monocoque bone-shaker frame, you probably would have stayed at home. These are holidays designed to get you to places and to see things that are off the beaten track and not necessarily in the average guide book, so the bike shouldn't be the main focus of a holiday like this. The bike is your friend, your portal to a more interesting vacation.
10 Reasons to love Headwater
Interest-packed itineraries – Headwater holidays are meticulously designed so that you really get under the skin of the place that you're visiting and discover more about the people, customs, history, culture and natural beauty than you ever could on an ordinary holiday.
Unbeatable value for money – In these uncertain times, value for money is key and Headwater aim to provide the best value at every stage of your booking, with lots of added extras and no unexpected hidden bills.
High quality hotels – All the accommodation venues are special, but in lots of different ways, often reflecting the tastes and personalities of the people who run them.
Maps, guides and route notes – Headwater provide comprehensive, fully up-to-date maps and route notes for every holiday. These are sent to you well advance so you can go through them at leisure, and their staff will also be on hand to answer any queries when you're on holiday.
Great food and wine – As self-confessed foodies, Headwater appreciate how important this is for many regulars, so they guarantee you'll eat well on your holiday!
Tailor-made travel – Most people want to fly from their local airport, often taking advantage of low cost carriers. If a route exists, Headwater will work with it, providing tailormade transfers to tie in as appropriate.
24-hour support and backup – Although this service is, thankfully, rarely used, Headwater do provide a full 24-hour emergency telephone service should you need out of hours support.
Bespoke itineraries – If you want a shorter, or longer, trip than the Headwater itineraries suggest, then it's not a problem to add or take out days, and re-price accordingly offering a great deal of flexibility.
Group discounts – Headwater holidays are an increasingly popular way of celebrating a "big" birthday or other such milestone! If your party is 10 people or more, and you're travelling for a minimum of 7 nights, then they can apply a single £500 discount to your total booking! Again, great value!
Loyalty scheme – As a special "thank you" to their many loyal customers, Headwater will apply a 5% discount to anyone who has travelled 5 times or more within the last 8 years.
Community Support
Headwater also have a great blog and online discussion forum which I personally think is a real deal maker when looking at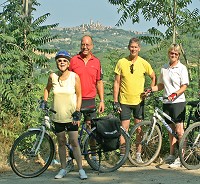 entrusting my hard earned cash with someone for a new holiday. Where better to get honest, experienced advice than from people that have used Headwater previously, often for holidays year after year. The openness of the community also tells me that Headwater are an honest, trustworthy company that don't mind letting their previous customers explain the benefits to new potential clients as they don't try to hide anything.
Although we have focused on the cycling holidays in this article, Headwater do provide services for walking and snow vacations as well as short breaks around he world. They truly are an experienced travel company who have your enjoyment and experiences at the top of their priority list. I suggest you all get over to Headwater Luxury Walking & Cycling Holidays and book your trip to Europe… you now have no excuses not to come and see me!!!!
Keep the Rubber Side Down
Stevie