Helium Lazer Helmet Review
Not only do I have my review of the Helium Lazer helmet today, I also have details on how you can win one of your own.  Be sure to check out my thoughts and opinions as well as the video about what I think of this cycling helmet.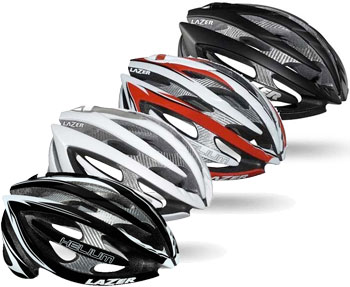 I have been in serious need of a new helmet for some time now, and after soliciting suggestions from my Cycling 360 buddies (Victor and Rob), I knew that the Helium from Lazer Sports was the one I should be getting.  Through the magic of social media and the great connections I have over at Google +, I was able to get in contact with Chris Smith from Lazer Sports and hook myself up with one of their helmets.  Actually, I did one better….I've asked them to hook you up with one as well.
There really is only one reason we all wear helmets, and that's to protect our melons.  But along with that, most cyclists are looking for something light, comfortable, good looking….and, of course, something that helps out our performance if possible.
The Helium is Lazer's top of the line road cycling helmet, but they have a whole whack of other helmet options to match with the type of riding you do and what might suit you best.  Choosing a helmet has a lot to do with personal preference and each brand has their own gadgets and characteristics that make them unique.  Here are some of the features that Lazer offers with their helmets:
The Lazer Rollsys® system: a fully integrated mechanism which surrounds the head completely. By turning a smooth thumb wheel – situated on top of the helmet – the Rollsys® system permits an accurate and progressive peripheral sizing adjustment.
Magic Buckle: I wasn't sure about the buckle system on the helmet when I first got it, but after riding with it a couple of times I see the beauty in it.  The small magnetic buckle makes it super easy to strap on or off the helmet with one flick of the hand.
X-static®: The padding in the helmet is designed to keep your head cooler when it's hot and warmer when it's cold.  Lazer says that the combination of X-static padding and the airpads provide the most efficient method to keep your helmet well ventilated.
Rigidity Brace System: Different models of Lazer helmets have different molded reinforcement structures to improve impact resistance.  In the Helium they use an integrated roll cage for maximum reinforcement.
Okay, so here is my totally honest take on the Helium Lazer Helmet including my pre and post first ride experience:
[youtube]http://www.youtube.com/watch?v=lGOj9o-SmqI[/youtube]
Final Word:
I totally trust the opinion and recommendations of Victor (@bicyclelab) and Rob (@rgrissom), so I knew I was going to like the Helium before even trying it.  But after checking it out for myself, I have nothing but good things to say about this Lazer Helmet, and feel completely comfortable recommending it to all of you.
Win Your Own Helium Lazer Helmet
This contest is now closed.  Congratulations to jeffvolkmer who wins a new Helium helmet from Lazer.  Thanks to all of you who checked out the review and entered to win.  Big thanks also go out to Chris and the good folks over at Lazer.
Here's what you've really been waiting for, right?  Your chance to win a hot new helmet of your own.  We have 4 ways for you to enter to win a Helium Lazer helmet.  You get one entry for each method you choose so you feel free to get all four entries in to win: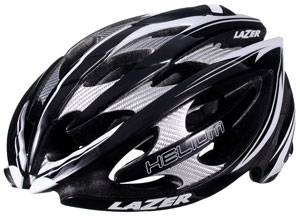 1.  Leave a comment letting us know what helmet you presently wear.  Yep, that's it.
2.  Follow @lovingthebike and @lazerhelmets on Twitter (if you are already, cool, you can still use this option) and then tweet out the following: "I just entered to win a new Helium from @lazerhelmets and @lovingthebike.  You can too: http://wp.me/p1oH5M-1YJ #Cycling #Helmet".
3.  "Like" the Loving the Bike and Lazer Helmets Facebook Fanpages (here's the links: https://www.facebook.com/lovingthebike and https://www.facebook.com/LazerHelmets). Then post to your Facebook page the following: "I just entered to win a new Helium from Lazer Helmets and Loving the Bike.  You can too: http://wp.me/p1oH5M-1YJ".
4.  Add Loving the Bike and Lazer Helmets to your Google+ Circles (here's the links: https://plus.google.com/116632371954283972593 and https://plus.google.com/u/0/b/116632371954283972593/114514119854134289797/posts). Then post to your Google+ page the following: "I just entered to win a new Helium from Lazer Helmets and Loving the Bike.  You can too: http://wp.me/p1oH5M-1YJ".
The contest is open until Friday at Noon EST and we'll be randomly picking a winner using random.org.  Good Luck.
If you have any questions about the Helium Lazer helmet, be sure to let me know and I promise to provide you with my honest and unbiased answer.