Help: I Need Shot Roks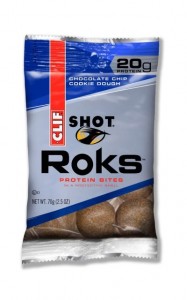 Because I'll only endorse something that I completely love and am excited about, there are not very many cycling nutritional products that I've promoted.  In fact, there's only been three…..Nuun, VegeGreens, and now Shot Roks.  Sure, there are other great products out there, but these are the only three that I've come across so far that have impressed me enough to promote.
Although I've actually only used Clif Shot Roks twice in the past, I'm a fan of what these protein bites have to offer.  It's only the fact that they are so freaking hard to get in Canada that's prevented me from using them more.  That's right, can you believe that they do not currently distribute them in Canada?  I'll get back to that later.
Now, if you were to pick any cyclist out on a longish ride and reach inside the pouch on the back of his jersey…odds are you'd find some energy gels or bloks.  No surprise….they have their purpose as do the equally popular, hydration drinks.  Both are very good and important items to use as arsenal on your rides, but Shot Roks have a different purpose.  Shot Roks are protein bites and used to provide small amounts (2 grams) of protein per shot.
Although I'm here to promote this product, in my opinion, the use of Shot Roks is quite limited.  I would only suggest using them on rides over about 3 1/2 hours….the rides where you're missing a meal and need that protein balance back in your body.
Each CLIF Shot Roks contains 2 grams of lean, natural milk-based protein—high-quality, soluble and easily digested to help quickly repair and build muscles. With 10 CLIF Shot Roks per packet—for a total of 20 grams of protein—it's easy for athletes to customize their protein intake.
I've only used these bad boys while cycling last year in Austin, TX.  They really came in handy on a couple long rides that I did, and in that Texas heat they performed beautifully.  You see, Shot Roks don't melt, freeze or stick together….they also have a protective outer shell that keeps them from getting smashed in the back of your jersey.  Best of all, they taste rather nice (available in Peanut Butter, Chocolate, and Chocolate Chip Cookie Dough).
They are so easy to use while riding.  Simply empty the package into your pouch prior to your ride, and then just reach back and pop one of the protein bites when you need it.  No wrappers to peel back, no mess, nothing. Because you're only taking the protein in 2 gram increments, you're in control of deciding how many you'll need for that particular ride.  If you know your body, you'll know how much protein it needs to take in.  Sure your body needs energy, electrolyte replacement, and hydration….but on those long rides, you also need to feed your muscles. Shot Roks takes care of that for you.
So, I'm asking you to help a brother out.  If you can spare a couple packages of Shot Roks, please send them to me.  I'm only partly serious here, but if you'd like to take me up on it please contact me.
I'd also love to hear about your experience using Shot Roks, or your recommendations on similar products.