How is Your Cycling Posture?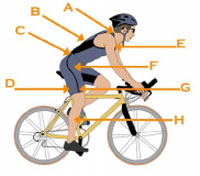 There are many things that can be done to improve your cycling performance, but one that is often overlooked is posture.  A cyclist might get a bike fit to ensure they are properly set up on the bike, but using the correct posture while riding will further help things out.
How do you hold and control your body on the bike?  It's not about how you look.  It's about having the right posture to improve your comfort and performance on the bike.
We're all unique and there are different ways to hold your body.  You don't have to look exactly like the pro cyclists to have proper posture on the bike.
So what does it take?
Relaxed Arms – One of the best things you can do to improve your cycling posture is avoiding locked elbows.  Your arms should be in a relaxed with a slight bend at the elbow.
The bend in your back – Cyclists should have an even and smooth arch in the back when sitting on the bike.
Hip and Torso Rotation – Ideally, you are pedaling with your legs and glutes.  Sometimes cyclists use torso muscles as well….and this is when improper posture sets in.
How do you know?
It's difficult to know yourself if you have proper posture on the bike.  But you have to be aware of it before you can fix it.
Shoot a video or ask one of your friends to watch you.   Ideally this should be done while on the road, but if you have to you can do it on a trainer.  Do this from all angles so you can get a good feel for how your posture is while cycling.
Women specific – Not always, but often women are more subject to tight neck and shoulders while riding.  Usually this is caused because women often experience increased pressure on the front of the saddle.  To counteract this, it's common to push on the handlebars to take pressure off the front of the seat.  But that tension then moves onto the shoulders and upper body.
More at Cycling 360
For more details on proper posture while cycling, have a listen to the Cycling 360 episode on this subject. The podcast can be found here on iTunes.