How to Get 138 Comments on a Blog Post
I know that a lot of those "how to blog" books and manuals tell you not to worry about how many comments you're getting, and to focus on how many people are checking out your blog.  But the instant gratification of a comment going up on your post is a pretty hard thing not to get excited about.  Yeah, my fellow bloggers, you're with me on this one right?  It's nice to hear back from your readers for many reasons:
To know someone is actually reading your post.
To see what their reaction was to what was said.
To get additional details or ideas on something that might have been missed in the post.
To create some chat within your blog by those who are reading it.
Okay, but what's the trick to getting 138 comments on one post?  Posting something that brings in a hugely insane amount of traffic is one way.  Another is posting something so controversial that it stirs the blood of all those around you and they just have to put in their two cents.  The way I did it was by getting involved with the Kickstand Cyclery Virtual Alleycat Powered By Cyclelicious.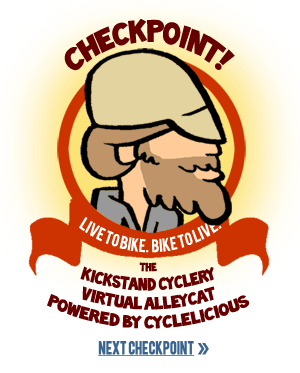 If you've never heard of an Alleycat before…it's an informal bike race where participants have to visit various checkpoints and perform some sort of task at each stop, and then make it to the finish faster than anyone else.  The good people from The Kickstand Cyclery and Cyclelicious teamed up to deliver the 2010 virtual Alleycat which had participants racing around the internet visiting bicycle related websites as checkpoints.  At each stop, they had to find the Yehuda Moon graphic which was hidden somewhere in the website and then click it and be directed to the next checkpoint.
I was very excited to be a part of this great race, and at my checkpoint the task that participants had to take part in was letting me know how they felt about the statement "Does a More Expensive Bike, Make a Better Cyclist"? BAM….138 instant comments to an interesting question.
Be sure to watch for next year's Virtual Alleycat Race and take part as a competitor or checkpoint.
Congratulations to the Winners
Congratulations to all race participants! Of 389 registrants, 94 riders finished and we now have the results to post:
1st place finish – Andy Goodell. Andy wins a Performance Exclusive GT ZuM Commuter Bike ($550 retail value)
2nd place finish – Aaron Regberg. Aaron wins Yehuda Moon merchandise totalling $40.00
3rd place finish – Nicolas Paris. Nicolas wins a copy of David Herlihy's "Lost Cyclist"
Best comment left at a checkpoint – Luke Wilson. Luke wins Yehuda Moon merchandise totalling $20.00
Random winner from all race finishers – Erik Hovland. Erik wins the Pedaler Clothing pullover hoodie ($125 retail value)
Lanterne Rouge prize – Connie Kassor. Connie wins Yehuda Moon merchandise totalling $10.00