How to Get Published on LIVESTRONG

For this week's Make it Happen Monday post, I'm here to let you know how you can Make things Happen with the LIVESTRONG Foundation.
I'm pretty sure that any blogger out there would be stoked to get their article published over at www.livestrong.org.  If you're a cycling blogger, it's likely even more exciting.  Well, I'm totally honored to have been recently published on their site (you can view my post at Livestrong right here)….not only because I am a huge fan of what they represent and do on a daily basis, but also because their blog gets super insane traffic and having my stuff exposed to that wide of an audience is definitely a great thing.
I have to admit that getting myself published over there was based more on being in the right place at the right time….and wasn't due to me having exceptional writing talents.  But let me give you the inside track on how you can use your skills to get some incredible LIVESTRONG goodness coming your way.
Tip #1: Create a team for the upcoming LIVESTRONG Challenge Austin.  All you have to do is go online and form a team 5 more more people using your blog name (eg: Team "domainname.com).  Once you do that, send a quick e-mail to [email protected] letting them know that you've formed the team and are ready to take on the challenge.
Tip #2: Blog about the LIVESTRONG Challenge Austin and encourage your readers to take part in this year's event.
Tip #3: Create a Virtual Team.  If getting together a team and heading over to Austin in October is logistically challenging for you, there is also the virtual team option.  Once you've created a team, your mates can join as virtual participants for FREE.  Virtual participants can still fundraise and receive incentives for the Team LIVESTRONG Challenge, but they will not be participating in the actual event.  The virtual member option can be selected once you sign up for a team and are asked to select which option as shown below: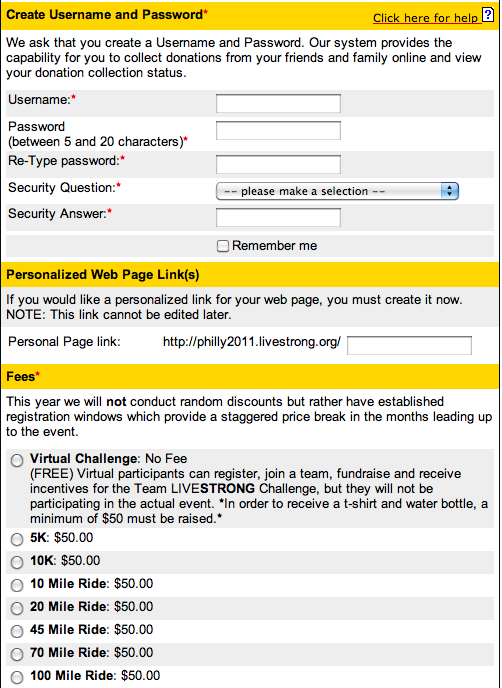 It's as simple as that, friends.  Even though they are a marketing powerhouse, LIVESTRONG appreciates the help and support that the blogging community has to offer.  I can't guarantee that you'll get something published, but there is a very good chance of them sending you merchandise and considering to publish something of yours at www.livestrong.org.
I hope to see y'all in Austin for the LIVESTRONG Challenge on the October 15-16th weekend.  It's a guaranteed great time.
If you're a fan of LIVESTRONG, let us hear about it….if we've got you motivated to create a team for the LIVESTRONG Challenge, let us know about it in the comments section below as well.