How to Train like a Pro Cyclist
It's as easy as riding a bike. Or is it? With more Lycra-clad amateurs taking to the roads than ever before, what really puts the pros ahead of the rest? While many people watch cycling for entertainment or to bet on races, others are fascinated by the athletic ability of these athletes.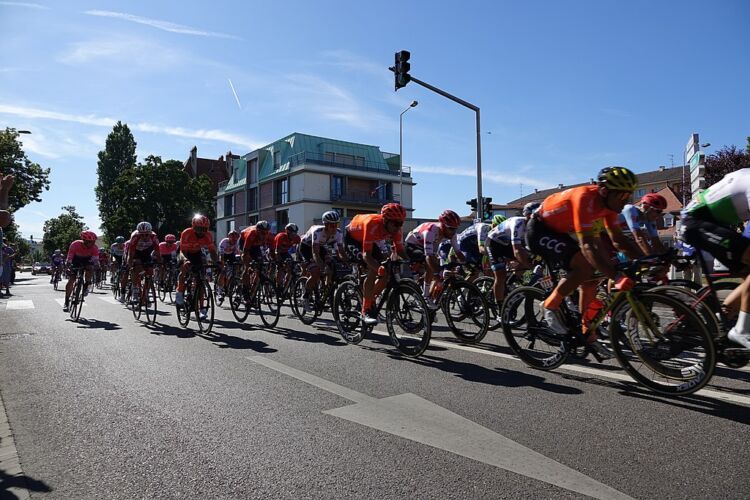 Firstly, is it better to ride fasted or fueled? While it may seem intuitive to carb-up before saddling up, recent research, advocated by Australian professional road racer Adam Hansen, suggests that the matter is not so simple. For optimum performance it is critical to attain the optimum body composition. This essentially means that, so long as crucial muscle mass is not compromised, the lighter the body, the better. A keto-like training regime is key to obtaining this physique. This involves consuming a high protein, low carbohydrate diet, often including lots of post-ride protein shakes. Once the body enters a state of low-carb metabolic adaption, energy generated for muscle contraction uses body fat instead of carbs for fuel due to lower insulin levels, without increasing recovery time. Complementing this with training of a specific intensity (62-63% VO2max for the fitness fanatics), produces maximum fat oxidation effects. Or, in simple terms, you become a lean machine.
Yet, professional cyclists such as Matt Brammeier and Peter Sagan, stress the need for a carb-heavy breakfast the morning of a race. Options such as porridge or toast, combined with a source of protein like eggs, provide that extra kick for the rides that really count. As well as this, for long distance events such as the Tour de France, it is recommended that participants consume 80-100 grams of carbohydrates per hour to strike the balance between keeping energy levels high and preventing lethargy-inducing bloating. It also goes without saying that hydration is key, and athletes need to consume anywhere between 2-3 bottles of water per hour. Some prefer this to be in the form of energy drinks or isotonic solutions for longer rides, however, the rule of thumb is that you can never drink enough, whatever you choose.
Many dieticians and pro cyclists do stress the importance of not being too strict with their diet. While it is like walking a tightrope between under eating and overeating, at the end of the day, the training process should be enjoyable and sustainable so allowances should be made for the odd treat (burritos seem to be a favourite among the Tour de France cyclists). Unless you are in the vital weeks leading up to a race, diets should be flexible and nourishing, in order to see the best results both on the road and off.
In terms of training programs, to an outsider the world of professional cycling can seem overly technical, inaccessible, and just downright painful. And, while some aspects of training do revolve around ultra- specific heart rate monitoring and super-targeted timing, the key pillars of building an effective training regime are relatively simple.
Strength endurance comes first. In order to even attempt challenging ascents or gruelingly long rides, you need to have the muscle to power your pedals. Interval training is the perfect way to tackle this. The framework is adaptable but could look like this: an MT (muscle tension) interval of around 10 minutes in a high gear cruising at just below your anaerobic threshold, followed by a 30 second all out sprint, followed by a longer 30 minute to 3 hour paced interval, finished off with a HS (high spin) interval in which the lowest gear is used on a flat road to achieve the minimal amount of tension on the pedals and really test your cardiovascular fitness.
Next, shift gears to speed. Time trials of around 15 minutes can be used to measure and track how fast you can go when using maximum power output. These can be used back to back (with a rest in between to allow your heart rate to come down) or incorporated into the intervals already mentioned. However, you should never be able to do more than 3 in a session. If you feel you can, then you're simply not pushing hard enough.
Strength Training
Many professional cyclists, including 3-time world champion Peter Sagan, also incorporate traditional strength training into their regime. The focus should be to even out any imbalances created by cycling, with a clear focus on core work. A strong core promotes good posture, positioning, and stability on the bike. It is a crucial component in taking your training to the next level yet is too often overlooked.
It could be argued that recovery is the most important part of training. To some, it is the part they most enjoy, to others, it can feel mind-numbingly frustrating. However, in order to make true progress, the body must be given the opportunity to repair. The good news is that recovery can come in many forms, so there is bound to be a combination the suits everyone. A popular choice for the cycling fanatics is the recovery ride. This involves a leisurely cycle of around 90 minutes, often including a stop at a café with friends. The aim is enjoyment and relaxation, not a new PB. This can be complimented by a deep massage and stretching regime, crucial for preventing injuries. After a particularly challenging ride an 8- minute waist-deep ice bath can be used as a wicked but worthwhile weapon to combat muscle soreness. And, of course, the non-negotiable is sleep; a good quality 8-10 hours is a bare minimum and can be supplemented with extra naps as and when needed.
In summary, what does it really take to train like a Tour de France athlete? A strict, but not too strict diet; an intense, but not too intense training regime. When it comes down to it, the real skill involved in training like a pro is striking the perfect balance. Training should be challenging, but fun and sustainable at the same time: that is the boring truth to making progress without burning out. There is no magic bullet or secret sauce, just a long up-hill grind to the top.
Photo By Gzen92 – Own work, CC BY-SA 4.0, https://commons.wikimedia.org/w/index.php?curid=80365574
References:
https://www.peakendurancesport.com/endurance-training/base-endurance-training/fat-burning-using- body-fat-instead-carbohydrates-fuel/
{Faster study) Jeff S. Volek, Daniel J. Freidenreich, Catherine Saenz, Laura J. Kunces, Brent C. Creighton, Jenna M. Bartley, Patrick M. Davitt, Colleen X. Munoz, Jeffrey M. Anderson, Carl M. Maresh, Elaine C. Lee, Mark D. Schuenke, Giselle Aerni, William J. Kraemer, Stephen D. Phinney, Metabolic characteristics of keto-adapted ultra-endurance runners, Metabolism, Volume 65, Issue 3, 2016, Pages 100-110, ISSN0026-0495,
https://www.sportsjoe.ie/world-of-sport/sportsjoe-experiences-a-day-in-the-life-of-a-professional- cycling-training-camp-60926
https://www.active.com/cycling/articles/a-sample-3-month-training-plan-for-cyclists