I Am Totally Out of Date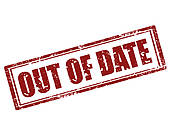 There was a time in my life…like even within the last 5 to 10 years….when I thought there is no way that I'd ever be out of the loop on music and technology.  Yeah, I would come across people who totally didn't have a clue with what was hot in the music scene….and living in the stone ages when it came to electronics.  I even remember me saying that there is no way I'll ever be one of these people.
No way.  It wasn't possible.  I was hip, modern, and had my ear to the ground.
WTF happened?  Not only am I mostly clueless as to what bands and types of music is popular….I don't really get why most of the stuff that is popular is that way.
I feel that the music shift happened quite suddenly, but the electronics thing has been slowly creeping up on me over the past few years.
I resisted getting a smart phone for like ever.  Even after I got one, I had an annoyance to it.  The other day, mine stopped taking a charge so for the past few days I've felt much lighter and free.  I know I won't convince y'all of this one….but those mobile devices are the biggest distraction from your life.  Worse than drugs.
But I know I'll get one again when we arrive on Vancouver Island this week.  I will do my best to keep it from being the huge distraction that I know it can be.  Listen to me….I must sound like some old dude on his rocking chair remembering back to the good old days when people actually focused on what was going on around them.  Yeah, I am totally out of date.
It is #MakeitHappen Monday, and for today I'll leave it at this.  Do what you do.  Be aware of all you do.  Take time to reflect on what you're doing.  Never be afraid to make adjustments and changes to keep you true to yourself.
You're never out of date.  You're just staying true to your date stamp.