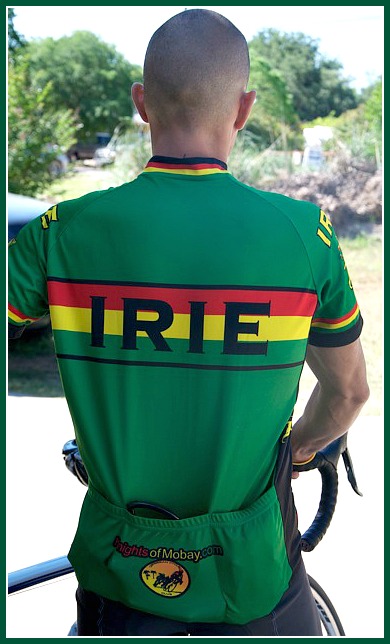 I don't hide the fact that I'm a Rasta Man wanna-be, so when I can combine cycling with my love for that culture….it's a total Win-Win.  A few weeks ago I came across a company called Knights of Mo' Bay that sells jerseys, shorts, and bibs with a sweet IRIE Caribbean theme so I just had to hit them up.
The company is owned by Royston Taylor who's originally from Jamaica but now lives in California.  The themes of his cycling clothing reflect his life and have a focus on Caribbean Reggae and culture.  His designs are manufactured by Primal Wear, a Denver based company that makes cycling apparel.
Even if you're not a Caribbean lover like I am, I think you'll like the simple design of the Irie line of jerseys and the island flavor of the other designs they have to offer.  If you didn't already know, Irie is a Caribbean term used to describe when you are at total peace with your current state of being.  It's the way you feel when you have no worries.  A perfect fit for the state you're in while out cycling, right?  Another thing to point out is the use of Reds, Golds, and Greens in the designs…..the colors of the Rasta culture.
Anyway, I immediately contacted Royston when I saw his designs and told him I needed to have one.  He kindly sent one over for me to check out and now we're offering one to you as well.  These are quality 3/4 zip jerseys that fit nice and look cool.  See below for your chance to win one, or head over to www.knightsofmobay.com to do some shopping.
Win a Knights of Mo' Bay Jersey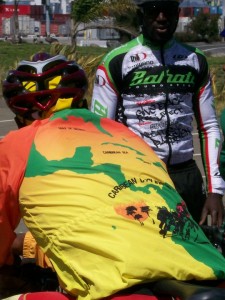 The contest is now closed.  Congratulations to @sthig who wins a sweet Knights of Mo'Bay jersey.  Now he can be a Rasta Man wannabe like me.
Enter to win a Knights of Mo' Bay jersey by leaving a comment below with how cycling makes you feel IRIE and why you'd like to have one of these to add to your collection.
Contest closes Noon Monday, May 28th.