Indie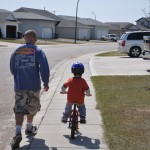 It was the proudest cycling moment I've ever had,
and it didn't even involve my bike.
The day was April 22, 2010…
the moment you became a cyclist.
You are only 4 years old,
and already part of a magnificent community.
A population of riders who's lives are better,
because they ride a bike
Is this the start of a Tour de France champion,
a car-less commuter,
or recreational mountain biker?
Whether you keep with cycling or not,
you know I'll Love you just the same.
As you sat on the bike saying, "I can do it",
I just knew that you would soar.
I am so excited for you,
and as I sit here looking at the photos and videos…
I can't help but let a tear roll down.
My little boy is riding a bike.
Freedom, Fitness, and Fascination await.
I am so incredibly proud of you, Indie.
I Love You so very much.