Jens Voigt ended stage three of the Tour Down Under wearing the most aggressive rider jersey.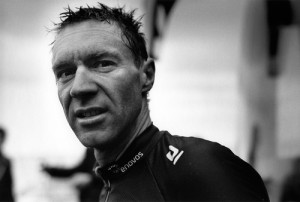 By professional cycling standards, Jens is an "old" man at 42. Yet his drive and determination keep him competitive and a joy for fans to watch. There's nothing like Jens in the break. Whenever he decides to go – and he does often – cycling fans collectively sit on the edge of their seats willing him forward. Not only is he one of the most charismatic riders in the peloton, but also the fact that he's an elder statesman makes fans feel just plain giddy when he makes his move.
I turned 55 this week. I'm not exactly sure what that's supposed to feel like but I'm sure my younger self thought I would feel much different at this point in my life.
There was a time when I looked at 55 as ancient. Surely, life would be winding down by the time I hit mid-50s. Nothing could be further from the truth. I could never imagine that I would feel as great as I do.
I didn't always take good care of myself. When you're younger, you don't really think about the long-term effects of poor eating, late nights, and one-too-many-cocktails. Luckily, I found out how good exercise and eating well make me feel. I attribute much of that to riding a bike, and I hope to be riding well into my old age.
During the post-race interview, the reporter asked Jens why he decided to bridge across. Among other things, he responded, "I still have high expectations of myself. I hate to be someone just filling the field…I want to show my face and put up a fight."
Me too, Jens. Me too.
– Suzanne
Photo: Couldn't find exactly who to credit, but Suzanne wanted you to know that it's not an original of hers.