Keep the Rubber Side Down
My Twitter friend…turned good close friend, @PedalmanTO, supplies a guest post today that will change the way you look at your life.
More often than not, I'll sign off an email or phone conversation with a friend by saying "Keep the Rubber Side Down." I can't nail down a date when it became the phrase that my friends associated with me but I can remember how the phrase took hold, and it's meaning changed over time.
A few years ago when cycling became a more prominent fixture in my life, I was asked to take a few colleagues out for a ride. Many were new to cycling and as we were reviewing the rules of the road and a few safety tips I got asked, 'What's the most important thing to remember?' Without thinking I responded with 'Keep the Rubber Side Down'. We all started to laugh and after that it turned into the joke at work when moments got tense.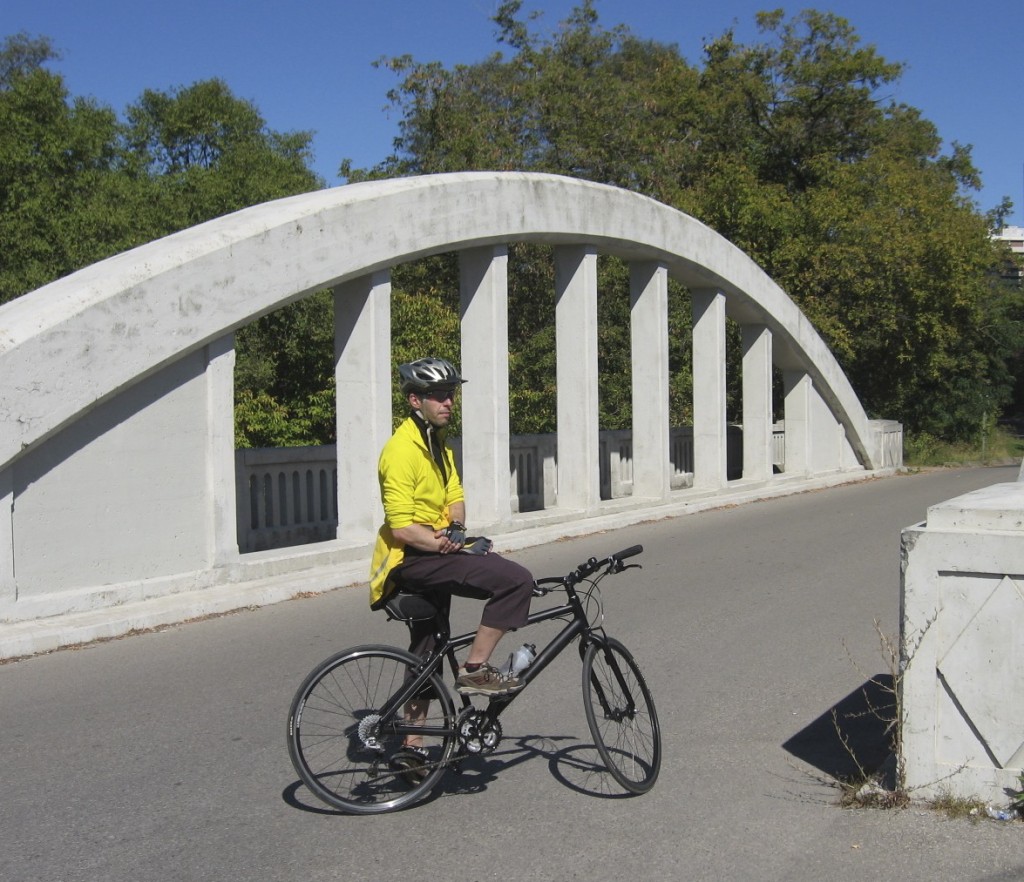 Like most lifers in the world of cycling, I take every opportunity to jump on the bike. I use it for fitness, pleasure, and (depending on the work season) a release to clear my head. I find that after a good ride I have a clean slate and can think through challenges that were brought by the day. Riding grounds me and initiates the reset switch.
I've had some pretty difficult personal challenges. I've lost some great people in my life and was personally faced with the same demon that took them away. Questions started to flood my mind – all those annoying 'what-if's' in life – and  they began controlling my thoughts all the time. It was after midnight on a Friday and I was getting ready for bed. I was thinking of the email I had just sent a friend moments before explaining what had been happening. I broke down in front of the mirror.
My roommate's dog came in and started whining because she could see I was upset. I bent down, scratched behind her ear and whispered "everything will be alright". When I sent her back to her room, I told her to have good dreams, protect her mommy, and Keep the Rubber Side Down. She trotted away and I stood there in my bathroom as it dawned on me.   This whole time I hadn't been Keeping the Rubber Side Down. I had been riding everyday but I hadn't grounded myself. I was letting my thoughts and actions go in every direction and blow me off course. Keeping the Rubber Side Down meant more than just going for a ride and staying upright.
Whether you ride or not, every time life throws you a curveball or tries to knock you down, take a moment and hit that reset switch. Do that simple act which helps ground you and puts things in perspective.
Keep the Rubber Side Down, my friends.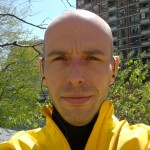 Ian, aka – Pedalman, is from Toronto, Ontario.  He is an all weather cyclist and lives a life where helping others comes before anything else.  And, of course, he always Keeps the Rubber Side Down.