Learning to MTB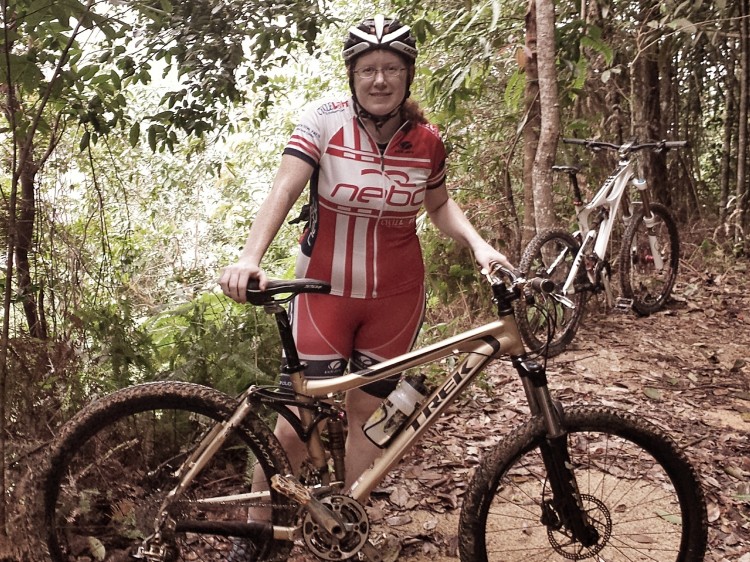 I'm not a mountain biker. I love coming up to someones wheel and sprinting around them, catching the draft in a paceline and carving corners on a quick descent, but all on pavement. I've dabbled in off-road bits before on my cross bike, but never anything too technical or challenging. Off-road for me is just off-season fun and goofing around.
I did try to go mountain biking once with my now-husband and friends, but it lasted about 15 minutes before an ambulance had to be called (not for myself). Fast forward a couple of years, and in the middle of some seriously nice off-road riding here in Malaysia I have no excuse for ignoring the MTB that's been loaned to me. My first two rides were this week, and I managed to survive them both without injury.
Both times I was following some friends and could follow their lines up and down the local mountain, with only a few poor choices on my part. I've gotten too good at hopping off and on the bike, but the second ride was much smoother and smarter, and this week I'll be even better.
One thing I know for sure is I will never try to be as competitive on a mountain bike as I am on the road. While I am a Strava segment junkie on pavement, knowing where they start and end and how fast I have to go to win the QOM, I have zero interest in doing the same off-road. I'm not a huge fan of heights, so stopping at the top of a little climb and staring down brings back old memories of doing the same when I used to ski, with my appendages suddenly shaky and my brain confuddled. While I never had a major incident on snow, I don't really want to chance it on the bike.
For now, mountain biking is still my off-season goofing around sport that I happen to do more often. I do find that it's already helped my on-road bike handling skills as well as give me a heck of an upper body workout. As I said previously in Darryl's post on cyclocross, working the core is one of the most important things, and it's no different for MTB.
Here's the whole point of this: learning a new sport is scary, and though I know tons of tips and tricks for road riding and try to share them with others, I don't know the same about off-road. So, what are yours?