Lighting It Up
You've never seen me review bicycle lights here before, and that's because I don't ride at dusk, dawn, or in the dark…..until now.
When we were living in Austin (and in Canada prior to that), I was able to ride pretty much when I wanted to and always had tons of sunlight shining on me. So I never needed any type of lights on my bike to keep me visible and safe.  But here I am on the island of Grenada now and there's a few reasons why I'm in need of being seen.
Darkness: We're a whole lot closer to the equator here in Grenada so it gets dark earlier and the sun comes up later all year long.  Yeah, the sunrise and sunset doesn't really vary during the year and is pretty consistent with a 5:30am rise and 5:45pm set.  With a shorter amount of daylight comes a greater need for bike light.
Commuting: As you may or may not know, I've been wanting to become car-lite or car-free for a long time.  Now that we're in Grenada I've made a big step forward in this direction and am able to use my bike for getting around.  More time on the bike equals more need for lights.
Schedule: With my cafe on the go and opening soon, there are days that I need to get going early or am out late on my bike.  This is probably the biggest reason I need lights on my bike.
Roads: Caribbean roads are definitely not the smoothest ones out there, so being able to clearly see where the holes and debris are is absolutley vital.  As I'll explain in a minute, the light set-up I have on my urban bike provides all the lighting I need and more.
My Lights
Before I left Austin, I was outfitted by a couple great companies who wanted to make sure I stayed lit up while out riding.  A big thank you goes out to Topeak and Gemini for what they provided for me.
Gemini DUO LED Light System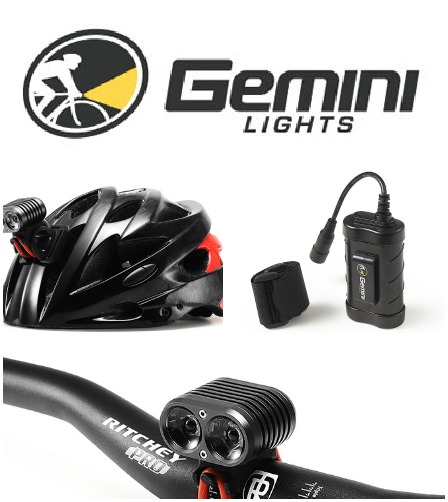 This light seriously has the power to turn nightime into daylight.  This 63g Light Head comes with your choice of a 2-cell or 4-cell battery pack to power up this bad boy and can be mounted on your bike or helmet.  By default the DUO comes programme for three different light adjustment settings, but can be personally altered to provide anywhere from 10 to 100% brightness so you can customize the amount of light it gives off.
There really isn't much for street lights here in Grenada so when it's dark…it's very dark.  The Gemini DUO sure does help me out when I'm riding in situations like this.  The 2-Cell battery pack also provides a nice amount of run time.  At 100% power the light can go for about 1.5 hours and at 10% it can last up to 17 hours.  For a full breakdown of run times, click here.
This light totally rocks, but it doesn't come cheap.  The retail price starts at $229.99, but I'd say you're getting a nice amount of lumens per dollar.
Topeak Highlite Combo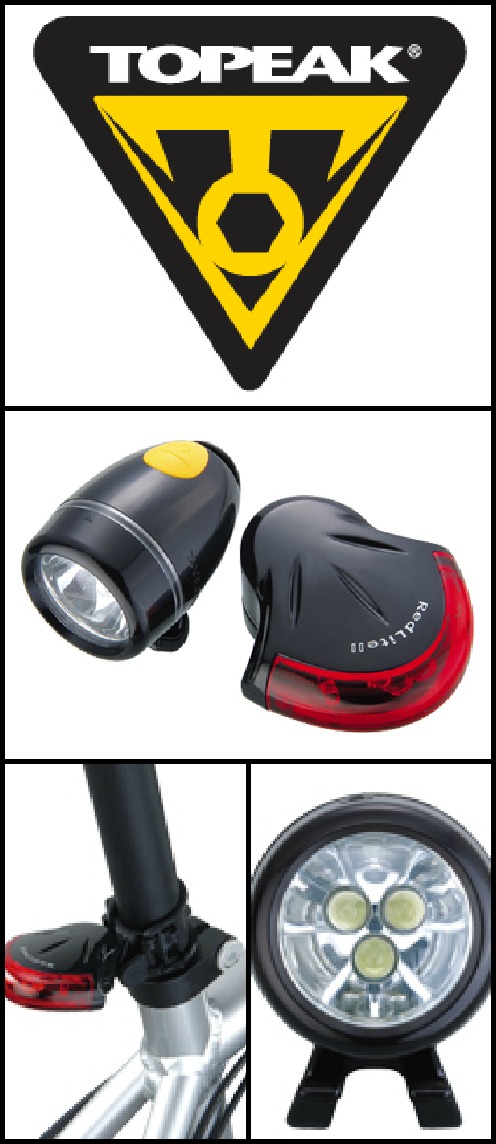 When the guys at Topeak asked what I'd like to try out, I told them to send me something for a guy just getting started with commuting in the dark.  They sent me their highlite combo which includes a WhiteLite™ II for the front and a RedLite™ II in the back.
The front light does not require a battery pack and it's super small and easy to carry around.  I use this one when I'm not needing the blinding light of the DUO. Because the back light is small and can stay on my seat post, it's always there when I need it.
I use the back RedLite more than either of the front lights because it's nice to have blinking away behind me no matter what time of day I'm riding in.  It becomes even more valuable the darker it gets outside.
This combo pack retails for around $20.00 so it's a good basic starting point for getting started with riding in darkish conditions.
Who's Riding in the Dark?
Okay, so there you have it….this is my story of a guy who is excited about spending more time on his bike and how I've prepared for the dark conditions I was previously not exposed to.
How about you?  What experiences or advice do you have to share?  Maybe you're just in the thinking stages of getting out for some early morning or late night rides…what questions do you have?
We're always happy to help out any way we can, but you can also get some great information on lights and riding in the dark from Gemini and Topeak as well.