Locking Up the Whole Family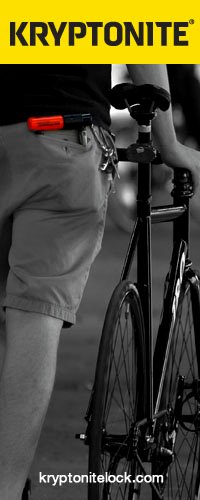 I'm so proud to be part of a riding Family, and thanks to the cool cats over at Kryptonite Locks we can now be ultra protected when locking up our bikes.
When me and my Family head out on our bikes there are four of us riding and also the Chariot trailer that I pull my Son in behind me.  It's a great set up, but now that we're riding to destinations and leaving our bikes unattended we need to make sure they're going to be there when we return.
It really sucks that there are people out there who want to take bikes, but the load of Kryptonite locks that we now have makes it very easy to keep them secure.  I told Daryl from Kryptonite my needs and he sent a few options for us to try out.
After dealing with Kryptonite and diving further into all they have to offer, I can honestly say that they are the kings of the lock business.  They know what we need and they know how best to keep us safe.  They also provide a whole whack of information on how to best lock up your bike and how to choose a lock system that works for you.
How to Lock Up Your Family of Bikes
I wanted to focus this article on how best to lock things up when you venture out on a Family ride.  With all those bikes and the Chariot I know I want to make sure I keep them secure and here's how we do it.
I was going to include a picture to show you how our set up looks, but it was hard to capture it all in one or two photos….so I'm providing some ideas for two different lock up options.

Lock up when nearby and can see bikes
It's as simple as wrapping the KryptoFlex Double Loop Cable through all bikes and frame of Chariot.  For this type of lock up there are countless ways to secure a group of bikes, but I find this one is simplest and works great.
Lock up when further away from bikes
This one takes a bit more time, but it's definitely worth the work to ensure the bikes stay safe.  Below are few points for the main aspects of locking up a group of bikes when you'll be away from them for a while.  Again, there are countless methods and options but here are a few things that I keep in mind.
Quick Release Tires – three of our bikes have quick release tires so I take the front tire off each of these and place it beside the back tire.
Secure Locking Point – Hopefully there is a nice big rack for you to secure your crew of bikes to.  If not, find a thick tree trunk, fence, or other place that provides a secure locking point.
Pairing up the Bikes – in order to keep things as clean as possible, I group together my bike with the Chariot and then lock all the other bikes together.
Locking up the Bike and Chariot – I use one KryptoFlex Double Loop Cable and wrap it through my frame, around the back tire (and front tire that is placed beside it).  It's a long one so I also wrap it through the frame of the Chariot and its two tires, and then I wrap it around my securing point and lock it up.  If I want to be extra secure, I use one KryptoLok u-lock around my two tires and frame…and another u-lock for the two tires of the Chariot.  We don't stop at too many shady neighborhoods, so the first option is generally all we need.
Locking up the Bikes – For the other three bikes I use my other KryptoFlex Double Loop Cable and wrap it through the three frames and through the front tire of my Son's bike that doesn't have quick release. Then I wrap it through the secure point and lock it up.  Next, I take the KryptoFlex Key Cable and wind it through the back tires and the two quick release tires that are sitting beside the back ones.  I also wrap it through at least one frame as well.
Padlocks and Combinations – to lock up the Double Loop Cables I have been using the Steel Padlock and Steel Round Padlock that Kryptonite sent me.  These require a key which is fine by me, but if you prefer to walk around keyless after leaving your bikes…you'll want to use a combination lock on the cables and will also want to choose the combination options for any of the other locks you use as well.
Quick Release Seat Posts – Only two of our bikes have a quick release seat post and I usually take those off and put them in the backpack I was carrying all the locks in.
In my personal opinion, choosing Kryptonite for all your lock up options is totally the way to go.  These guys offer everything you're going to need and will provide great customer service should you need it. Be sure to go to their FAQ section and read up on all the great information in there….or ask a question of your own.
Check out their "where to buy" directory so you can make the purchase online or at you  local bike shop.  Be sure to pick up the locks you need for your own personal family bike riding needs.  Most important of all….get out there and ride with your family.