Look Hot and Ride Fast in Our New Kit
I'm super stoked to announce the launch of our new Loving the Bike jersey, Kit, and kids jersey.  This is the second generation of the Loving the Bike Kit and with it comes a hot new design and bibs instead of shorts….and of course, it will make you ride faster, just like the 2011 version did.
Click Here to ORDER: Yes, we have mens, womens, and kids varieties available.  Get some for the whole Family.
I'm going to keep this short and let  the graphics do the talking.  A big thank you goes out to Stevie Dexter who created this masterpiece and I'd also like to send out a thank you shout to our sponsors: Training Peaks, Far End Gear, and Attune Foods.  Oh, and of course a huge thanks to Groucho Sports for making these and looking after the distribution.  We wanted to limit the amount of sponsorship on the kits so we kept it to three…..and I'm so happy to have each of these companies on board.
Order Now and SAVE:
Order by May 11th and get 15% off.  For this first week, enter the code "EARLYBIRDLTB" when ordering and the discount will be applied to your order.  After May 11th they'll go back to regular price.  Even our regular prices are wicked good, but if you can save some cash….go for it.
Delivery: The jerseys and kits will get to you around the week of June 11th.  This is due to it being a pre-sale.  Sales made after pre-sale will arrive much faster.
Sizing: The Groucho Sizing Chart can be found here: http://grouchosports.com/faqs (kids sizing chart found on product description).
http://gear.grouchosports.com/category/collaborations
Some Words From Our Designer:
"The idea for the new Team LovingTheBike kit came from the idea of us all being part of our large online community.  It was important not to turn the jersey and bib shorts into a billboard poster and the sponsors that have been chosen reflect the healthy living and hard working ethos of LovingTheBike.com, and look forward to continuing a great relationship with them in the future.  The basis of the colour scheme came from the website design and if you look closely you may see some likenesses to the 2012 Omega Pharma Quick Step kit, which personally I think is the nicest in the Pro peloton this year.  We think this new kit has something for everyone and should look just as great wearing it out with your friends as it will do during a race.  We'd love to see pictures of this new kit in action all across the world.  Team LovingTheBike has arrived!"
– Stevie
Blowing Out Old Stock: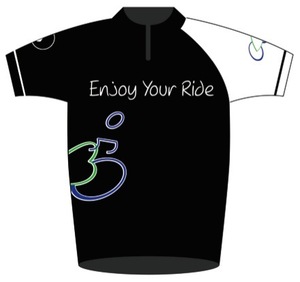 We have some 2011 jerseys and kits in stock and are blowing them out at 30% off.  We have various sizes of mens and womens jerseys and shorts, so here's your chance to get a great kit at a fantastic price.  Prices are already marked down on the shopping page.
Of course we also have the ever popular Loving the Bike T-shirt.  We aren't blowing these out, but I hope you'll come be part of the Loving the Bike Army and get one for yourself.
http://gear.grouchosports.com/category/collaborations