I Am…..
We've been running the monthly "Look Who's Loving the Bike" feature now for six months, but I have yet to give my story as to why I am Loving the Bike.  At the top of each month we feature great cycling stories and memories of why people are loving the bike.  Please take a look back at what others have been saying for the past six months…..one of my favorites so far is this video from Rhett Dopwell who has a great explanation of why he is loving the bike.
When I started this blog back in February with my very first post, I did so because cycling was my passion and I wanted to get involved with a blog to feed this love.  The past six months have helped me realize how much I really do love the bike and all the great things it does for me and my life.
As I've heard many of the people who have already provided me with their cycling memory or story say…it's very difficult to select just one thing I love about the bike.  The first reason that comes to mind is that I love how it makes me feel and what it does for my body.  If it wasn't for cycling I really don't know how I would ever get any cardio, let alone love the way I get it.  Cycling makes me feel and look healthy and I absolutely love it.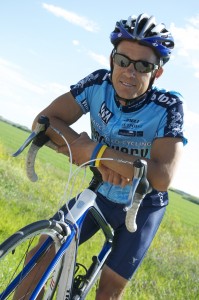 But I am Loving the Bike for so many more reasons than just that.  I love it because of the solitude and meditative state that it brings me to every time I'm on it. As I mentioned to Bryan from Biking to Live the other day, cycling is my only means of escape these days….and I'd probably be a total mess if I didn't have that.
I love the connection cycling gives our family when out on a ride together.  I love the craftsmanship and beauty of the design…..and the way that two wheels on a frame can provide so much to all of us who ride one.  I love the camaraderie and brotherhood among riders.  I love the speed and knowing that I am moving myself solely by my own power.  I love the fact that there is no better means of environmentally friendly transportation than the bike.  I am simply loving the bike.
So here I am…a guy, his blog, and his bike.  The combination of these three has given me more than enough reasons to be Loving the Bike, and I'm so thankful I get to share it with you through each and every post.
I still need to know why more of you are Loving the Bike.  Please submit your reason to us by going to our "Look Who's Loving the Bike" Submit Form and we'll feature it in an upcoming post.  Look Who's Loving the Bike is posted at the top of each month.