Loving the BITE: Delicious Whole-Food Thanksgiving Menu 2014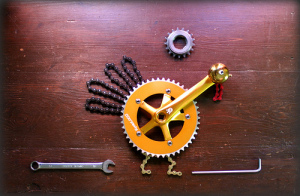 I'm not sure where 2014 went, but next week is Thanksgiving (US).  Are you planning the dinner? Do you know what you're gonna make? Or, what about the next Holiday…are you inspired to cook up a delicious whole food feast? Most certainly, I am.  I've scoured the interweb for you, to save you time and headache looking for fantastic Holiday foods.
You can take that extra time and go ride your bike…you're welcome.
Without further ado, I present the Loving the Bite Holiday Menu 2014.
Loving the Bite Holiday Menu 2014:
Roasted Turkey in an Oven Bag from food.com. I'm actually just learning this technique as well for a moist, delicious turkey. Use olive oil or avocado oil rather than canola oil, and enjoy this for dinner and leftovers!
Vegetarian Main Dish: Roasted Acorn Squash Stuffed with Wild Rice Salad from Beard & Bonnet.  Whether eating vegetarian or you want a flavorful side dish, look no further than roasted, stuffed acorn squash. Yum!
Roasted Beet Winter Salad from Cooking Light.  Cooking Light is one of my favorite go-to sites for recipes and always comes through with delicious dishes.
Spicy Broccoli Soup from Loving the Bike.  Quite simply, you won't be disappointed with this soup.  It's refreshing, healthy, easy, and satisfying.
Twice-Baked Sweet Potatoes from Food Network. In a word, these are simply delicious.  To make them a bit healthier, omit sugar and use 3 Tbsp organic honey.  Replace butter with coconut oil (or if using butter, try to used butter from organic fed or grazed cattle).
Roasted Cauliflower from Food Network.  Good for you and Delish!
Crustless Maple Pumpkin Pie and No-Bake Pecan Pie Squares from the Detoxinista. Both are grain-less, gluten-free, and dairy free.  While they are light and nourishing, they still taste divine. Enjoy!
Spiced Wine from Lush Wine Mix.  These wine cocktail mixes are packed with organic and real-food goodness.  They use freeze-dried fruits and organic spices (which means antioxidants from the mix and the wine!), and contain 50% less sugar than traditional mulled wine. They taste A-M-A-Z-I-N-G. Saves you time and money since you don't have to track down all the spices yourself. (Lush is offering coupon code holidays2014 for 25% off 3 and 6-packs – US shipping only).
Just like last year, these dishes and beverages are colorful, use a variety of vegetables, nuts, and spices, and are oh-so-deliciously-whole-food. Enjoy the food, enjoy the company, and reflect on all you have to be thankful for this year.
Menu's set. Done and done. While sticking to healthy foods, it is possible to feel a bit stuffed, still. If this happens to you, try our anti-junk food smoothie or go for the full Apex Nutrition Smoothie Cleanse (use code lovingthebike for 25% off) …you'll feel good as new.
This year, we wish a nutritious, active, peaceful, and wonderful Holiday for you and yours. Enjoy the food, enjoy friends and family, and reflect on all you have to be thankful for this year. Cheers.
Fuel Your Holiday.  Fuel Your Ride.  Nourish Your Body.
Photo c/o Mission Bicycle Company