Loving the BITE: Amazing Antioxidant Lemon Pepper Chicken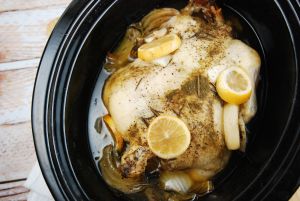 One of the simplest ingredients in your kitchen could have one of the biggest impacts in your body. We're talking SIMPLE. Downright ordinary.
Black Peppercorns.
In case you didn't know, I'm usually a go big or go home sort of person, sort of nutritionist, so we're going WHOLE peppercorns in the recipe.  It's an incredibly simple recipe that when made in a slow cooker is easy and delicious. Just how we like it. Ready to go big with peppercorns? Here's the how and why you should.
Recipe of the week: Slow Cooker Whole Pepper Lemon Chicken
Ingredients:
1/4 cup butter or organic coconut oil, softened
2 teaspoons lemon pepper (look for simple ingredients like lemon zest, pepper, and salt)
1 teaspoon dried thyme
juice from 1 lemon
2 clove garlic, minced
1 (2 to 3 pound) whole chicken, giblets removed
1 lemon, sliced to 1-inch thick slices
1/4 cup peppercorns
Instructions:
Rinse chicken, pat dry with paper towels. Loosen the skin over the breast and thighs with fingers.
Combine first 5 ingredients. Spread seasoned butter over entire chicken and beneath the loosened skin using a teaspoon or fingers.
Place chicken into a slow cooker. Place lemon slices on chicken. Place peppercorn into chicken and into the slow cooker.
Cook on High for 4 hours or Low for 6-8 (cook until chicken is very tender and an instant-read meat thermometer inserted into the thickest part of a thigh, not touching bone, reads at least 160 degrees F (70 degrees C)).
Serve chicken pieces with any sauce and a few whole (cooked & softened) peppercorns.
Comments:
In every black peppercorn, there lies within a compound called piperine, potent antioxidants, and anti-inflammatory components. When cyclists add it to their foods, these black pepper nutrients work to:
Reduce the sensation of pain, arthritis and inflammation of joints
Protect against oxidation of LDL cholesterol (oxidation allows bad cholesterol to form plagues in our arteries), high blood pressure, Diabetes, and Cardiovascular Disease with potent antioxidants. In fact, black peppers have an ORAC score (Oxygen Radical Absorbance Capacity) of 34,053 μ mol TE/100g…above chili powder, raspberries, walnuts, and blueberries.
Stimulate "transporters" in our intestines that are responsible for absorbing nutrients from foods and supplements. So, piperine not only promotes wellness directly, it helps us make the most of the other nutrients we consume.
Promote healthy digestion. Black pepper stimulates the release of hydrochloric acid in our stomachs, which promotes timely and healthy digestion. Without adequate amounts, or with high acid levels at the wrong times, many folks suffer from food setting in their stomachs too long, heartburn, and indigestion.
Reduce extra bloating and water weight – the antioxidants in black pepper work as a gentle diuretic that reducing extra water held in our intestines.
Like other peppers, cause our bodies to burn slightly more calories as a mechanism for controlling the "heat" we eat
Fight against cancer cells (in lab tests)
Reduce the degradation and damage to cells often associated with high blood sugars in Diabetes
Remember, whole foods are almost always better. With black pepper, it's best to buy the whole peppercorns and eat them whole when cooked or grind them just before eating or cooking with them. Powdered and pre-ground pepper has often lost many of its benefits, and the taste just doesn't compare.
Looking for more ways to add black pepper? Don't forget to grind it onto your salads, eggs, vegetable juices, and into sandwiches. Add whole peppercorns to all sorts of cooked or sauted dishes.  It's a super flavor-enhancer, and not called The Master Spice for nothing.
This week, we cyclists have a great opportunity to reduce pain, reduce cell damage, and increase overall wellness with a simply little ingredient. Go big with whole black peppercorns.
Fuel Your Ride. Nourish Your Body.