Loving the BITE: Autumn, Apples, and Sausage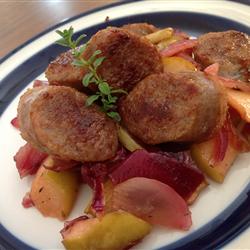 Nothing quite says October like Cycling in the leaves, Apples and Sausage.  Well, maybe beer.  But, since I'm the nutritionist and cook, and not the brew-master, I'll stick to what I know.  This week, we'll cut to the chase with a quick, easy, delicious Autumn dinner. It will include some nutrition powerhouse ingredients (you know what they say about apples and doctors).  And, some that are more of a splurge. I know, I know, sausage is not exactly the pinnacle of nutrition.  So, I'll direct you to the best choices for meat-eaters and vegetarians alike, and let you know why it's an apple a day around here.
Recipe of the Week:  Easy Apple Sausage Bake
Ingredients:
1 lb all-natural sausage, sliced into 1-inch pieces  (I use kitchen shears for fast slicing, sausage can be any meat including pork, chicken, turkey, or vegetarian)
4 small apples, cored, seeded, and chopped
3 garlic cloves, minced
1 medium onion, chopped
Instructions:
Pre-heat oven to 400 deg F.
Place all ingredients in large baking dish.
Bake for 40-50 minutes, until sausage is cooked through (should be brown throughout).
Serve with grilled, sauteed, baked, or fresh veggies (remember, 1/2-plate of vegetables every night!).
Drizzle the main dish with a small amount of mustard, if you'd like.
Enjoy and thank me later.
Comments:
Sure, 90% of the time I eat and serve very healthy foods and dishes.  And, by healthy, I do not mean low-fat.  I mean loads of vegetables, healthy fats, lean proteins, fruits, spices, and other real, natural foods.  But, once in a while, maybe 10% of the time, it's okay to splurge, too.  Sausage to me, is a splurge.  And, if you keep it to real-food ingredients of meat and spices, not too bad of one at all.  Here's some tips for your Octoberfest:
Look for organic and natural sausage options.  It may seem like this is of little value when considering a processed meat, but I recommend being more vigilant than ever.  Organic options should ensure quality to the meat, and are a good place to start.
Look for sausages that are 100% of the meat you're choosing.  If pork, beef, chicken, turkey, etc., they should be 100% of this type of meat.
If going for a reduced amount of saturated fat, go for a poultry-based sausage.  Of note, I don't believe you must eat low-saturated fat at all times, especially in the midst of a whole-food, healthy, low-sugar and low-refined carb, fresh diet.
Avoid sausages with added preservatives or other "flavor" additives, such as MSG and nitrates. For high flavor, a sausage should have vegetable salts, spices, and chilis.
If using a soy-based tofu product, always ensure organic and no GMOs, and look through the ingredients to make sure you're familiar with all of them.
Most everyone recognizes apples as nutrition all-stars. But why? What makes them stand out?  Here's more info on the real nutrition star of this meal.  Eat an apple, and you'll get:
Phytochemicals galore!  And, specifically, phytochemicals (remember, these are disease-fighting/preventing nutrients found in fruits, vegetables, nuts, spices, etc.) that regulate blood sugar by preventing spikes, inhibiting an over-release in enzymes that breakdown carbs into simple sugars, and reducing glucose absorption into the bloodstream (all reasons why apple are great for everyday nutrition, but not for training nutrition when you want and need glucose in your bloodstream).
Special, magic fiber.  Apples' fiber goes beyond the status quo by having a significant impact on bad cholesterol and heart health.  It's not something that can be extracted from the apple and taken as a pill, but a combination of the pectin-fiber in apples and its phytochemicals that work together to have positive health effects.
Satiety.  An apple averages about 60-90 calories for a baseball size.  This is the amount of 2/3 a snack-size candy bar.  You know, those little ones that you're handing out tonight.  If you are hungry and want to feel full and satisfied while ooohhhing and ahhhing at the neighborhood kids' costumes, which would fill you up better? An apple or a tiny piece of low-nutrient candy?  Well, the same is true in research; real, fresh apples satisfy hunger and decrease over-eating.
A remarkable boost to your good bacteria's health.  These bacteria are the good guys, and your immune function, hormone balance, nutrient absorption, and more suffers greatly when they are not healthy.  Apples seem to alter the amounts and functions of two key strains of gut bacteria, Clostridiales and Bacteriodes, in the large intestine. As a result of these bacterial changes, intestinal cells thrive and become healthier.  Of course, the health of your intestines means everything to the health of your entire body.
Dinner's done and all you've had to do is slice up a few items.  It's the time of year for warm foods, but keep your dinner "light at night" by balancing your main dish with loads of vegetables.  I hope you enjoy this Ode to Octoberfest.
Fuel Your Ride. Nourish Your Body.