Loving the BITE: Banana Bread for your Ride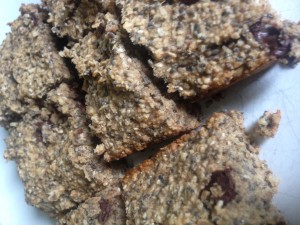 A couple years ago, we posted this Banana Bread recipe. Sort of a new twist training fuel on an old-school gooide. Since then, it's become many of my clients' go-to homemade fueling. Not too sweet, easy on the stomach, and delicious enough to motivate. Here are my thoughts on Banana Bread for Fueling:
Back in the day, before the gels and bars and chomps, we used banana bread for fuel.  Well I did, anyway. And it was delicious.  This week, we're going for a remake of my old-school favorite.  I'm adding in a few ingredients that I now know to work especially well for fuel, and I'm using oats instead of wheat-based flour to make it tolerable for more people (use gluten-free oats if needed).  And anyway, so many athletes I know hold fast to eating oats before long training and races, so why not make an oat based bar?
Some of my new fueling favorites are tucked in: chia seeds, organic honey, organic coconut oil.  You'll find the basics: ripe bananas, oats, and chocolate chips.  An old-school brand-new whole-food cycling fuel.
Recipe of the Week: New Chocolate Chia Banana Bread Fuel
Ingredients:
2 cups oats (gluten free optionally)

1/2 cup chia seeds

1/2 teaspoon baking powder

1/2 teaspoon baking soda

1/2 teaspoon salt

1/2 teaspoon cinnamon

3 medium ripe bananas

2 teaspoons pure vanilla extract 

1/4 cup melted organic coconut oil

1/4 cup honey

1/3 cup chocolate chips
Directions:
Preheat oven to 350 degrees F.  Spray bread pan with oil or use small amount of organic coconut oil to make it non-stick.

To make oat flour: Place oats into blender or food processor and blend for 1-2 minutes until oatmeal resembles flour, using a spoon to push down oats as needed.

Add next 5 ingredients to processor (chia seeds through cinnamon).  Process/blend until well-mixed.

Add next 4 ingredients (bananas through honey).  Process/blend until well-mixed.  Then, gently stir in chocolate chips (do not allow processor to chop these up, just blend in).

Spoon batter into prepared pan, spreading evenly with rubber spatula. Bake for 15-20 minutes or until toothpick inserted into center comes out clean or sides of loaf pull away from pan.

If you'd like to form bread into fuel "blocks" or balls, slice while still warm and form as desired.  If you'd like to eat as sliced bread, first cool 10-15 minutes on wire rack and then slice.
Nutrition information (12 servings): Approx. 200 calories, 31 gm carbs, 4 gms protein, 5 gm fiber, 170 mg sodium.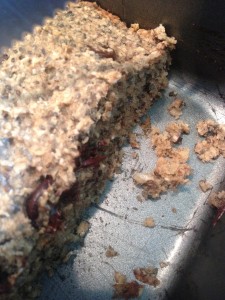 There are lots of reasons to like this recipe for a riding fuel source; it's got ingredient after ingredient of energizing nutrients and delicious flavors.  What's more, it's got a "real food" taste because guess what, it is "real food." It's not a foreign substance made of chemicals or colorings.  It's real, whole, and basic.
And, basic is good.  AS LONG as you think through the basics. With the strong revival of real food fuel (and I'm at the forefront of recommending it), there's a big risk of forgetting that fuel needs to be more than just real food to work well.  In real life, when you're really pushing hard for a PR, podium, or just a great ride, there's more to it.  There's weight to consider.  There's the right nutrients. There's logistics.
Take for example, the fueling favorite: a whole, fresh banana.  A 6-inch banana will deliver 27-30 grams carbohydrates, which is a nutrient you need, but at a cost of 1/2 a pound and a large volume in the jersey pocket.  Also, bananas get an "F" in sodium delivery.  You have to deal with peeling it and disposing/carrying the peel.  Compared to gel with the same amount of carbs for only a couple ounces, it's heavy, inadequate in electrolytes, and a potential squashed mess.
Or, how about a bag of nuts? Just 1/3 cup, at only 1.5 ounces, will get your about 200 calories, and salted ones are a good source of many electrolytes including needed sodium.  However, they have almost no carbohydrates, and the ones they do have are insoluble, hard-on-the-gut fiber.
Remember, up to 5 of training or racing, we're mostly concerned with the 3 basics: Fluids, easy-to-digest carbohydrates, and sodium.  If your real food doesn't deliver these, you may be in for a real-food bonk.
So, what's a cyclist to do? Stick with the real foods, but be smart about it.  Salted dates, honey, and licorice can deliver similar nutrients as a gel, and will satisfy even the strictest of real-food fans.  Or, for longer rides, instead of a banana, try our banana bread, banana bars, or lemon bars. These deliver a concentrated source of carbs, proteins, healthy fats, and salt.
I'm all for real food. I'm all for smart fueling.  Old-school or new twists, keep it real, smart, and effective. Most, keep turning those pedals!
Fuel Your Ride. Nourish Your Body.
If you'd like to work with Kelli one-on-one with a Custom Nutrition Plan & Coaching, or download one of her acclaimed Instant Download Plans like Fuel Right Race Light, click here: Apex Nutrition Plans for Endurance Athletes. Be sure to use coupon code lovingthebike for a 15% discount!