Loving the BITE: 7 Power Breakfasts For Easy Mornings
How would describe your breakfast?  Same ol' same ol'? Or POWER-PACKED and ENERGIZING?  This week, we'll keep it short and sweet, and look at 7, 10-minute or less Power Breakfasts.  Easy Breakfasts. Processed foods need not apply.  These are whole-food, high-nutrient, protein-and-fiber-packed meals.  You wouldn't expect anything less, right?
Recipes of the Week:
10-Minute Power Breakfasts to Start Your Day:
Yellow Eggs & Yams: 
This might just be my favorite. It's got it all – whole food carbs, awesome protein, and a lot of flavor.
First, prick a 4-6″ yam or sweet potato all over with a fork or knife. Dampen a paper towel, loosely wrap around sweet potato, and place together in microwave on a microwave safe plate. Cook for 3 minutes. Turn over. Cook for an addition 2-3 minutes. Meanwhile, place ~1/2 Tbsp avocado oil, butter, or coconut oil in a skillet on medium heat. Crack and add 2 eggs. Cook on one side about 2-3 minutes, until firm, break yolk (or not), and flip. Cook an additional 1-2 minute to desired doneness, sprinkling with salt & pepper as desired. Take sweet potato out of microwave, allow to cool if needed, cut in half and add just a bit of oil or butter (~1/2 Tbsp). Season with salt, pepper, chili pepper, salsa, or my favorite, my Wonderful Chemical-Free Homemade Taco Seasoning Mix.  In total, you've got ~360 calories, 20 grams carbs, 4 gm fiber, and 15 grams of protein. Yum and satisfied!
Greek Yogurt Parfait: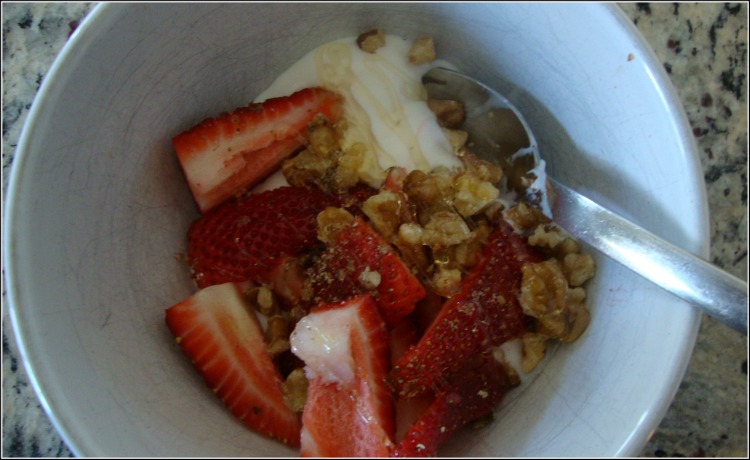 This is my breakfast of choice almost every day.  Place 3/4 cup plain Greek yogurt in a bowl.  Add ½ cup berries, 2 Tbsp nuts, and 1-2 Tbsp Chia seeds or ground flaxseeds.  Add a drizzle of organic honey, and optionally, a dash of vanilla and/or cinnamon.  Who doesn't love a parfait?
Tip: Want to make your own high-probiotic yogurt? Read this post and make it yourself!
Up-and-At-'Em Smoothie:
Mix 1 cup strawberries, 1 Tablespoons almond butter (or 2 Tbsp almonds), ¾ cup plain organic Greek yogurt (OR 4 scoops PB2 or 1 scoop protien powder), 1-2 Tablespoons Chia seeds or flaxseeds,  1 cup spinach, 1-2 tsp organic honey, and ice/water as needed. Process until smooth. Don't like the mess in the morning?  Make it ahead of time and store single servings in the refrigerator for 1-3 days or in the freezer for up to 6 months (make sure to leave "headroom" in the container for freezing b/c the volume will expand).  Thaw overnight in the fridge.
Overnight High Protein Slow-Cooker Oats:
The night beforehand, grease your slow cooker with coconut oil. Then, place the following in it, and mix well: 1 cup steel-cut oats (gluten-free if desired), 2 large apples, cored and chopped, 1. 5 cups unsweetened non-dairy milk, 3 cups water, 2 teaspoons cinnamon, 0.25 tsp salt, 2 Tbsp coconut oil, 1 tsp vanilla extract, 4 Tbsp hemp seeds (if you don't have these, omit and add 1 more Tbsp oats), 4 Tbsp chia seeds, 2 Tbsp real maple syrup or organic or local honey. Cover, and cook on low 7-8 hours. Once cooked, stir well and serve. Add more milk, pecans, maple, apples, Greek yogurt, etc. if desired (but delish as is).  It can be stored in refrigerator 3-4 days, simply reheat in microwave or stovetop. Serves 4-6.
Or, try a cold version – Overnight Chia Oats place 1/4 cup uncooked old fashioned rolled oats, 1/3 cup milk (any kind), 1/3-1/2 cup Greek yogurt, 1-2 Tbsp chia seeds, 2 teaspoons real maple syrup or organic honey, and ½ cup fresh berries or other chopped fruit in a bowl or glass.  Stir well, cover and place in refrigerator overnight. Serve cold or heat up on stove-top or microwave in the morning. In the morning, grab and go!
Raw Cocoa Chocolate Milk:
With the incorporation of raw, organic cocoa, this drink ranks right up there with the best smoothies in terms of antioxidants! To make it, place 64 oz. milk (any type), 1/3-1/2 cup raw honey or real maple, 1/2 cup raw organic cocoa (here's the brand I usually buy) in a blender. Blend well and serve (1-2 hard-boiled eggs on the side rounds it out well). The frothy foam on top makes for the best mocha coffee!
Chia Pudding:
This chia pudding works well as a vegan or dairy-based breakfast. It's loaded with great protein and fiber and will keep you full 'til lunch.
Simply place ¾ cup milk (dairy, almond, coconut, etc. – use unsweetened), 2-3 Tbsp chia seeds (here's the brand I usually buy), 2 tsp real maple or organic honey (to taste) in a jar. Cover and shake very well. Allow to set in the fridge 4+ hours or overnight. For variety, try:
Vanilla Chia Pudding: Add 1 tsp real vanilla.
Chocolate Chia Pudding: Add 1 Tbsp raw cocoa & 1 tsp real vanilla.
Make Ahead Then Grab-n-Go:
These high protein Black Bean Brownies, My Gluten-Free Power Muffins, Not-Your-Mama's-Chocolate Cake, Chia-Seed Banana Bread, Peanut Butter Power Cookies, Kind-Bar-Knock-Offs and Breakfast bars are all healthy winners in our household. No time to cook in the morning? No problem, bake ahead as needed and then grab-in-go.
BONUS Make-ahead: No Bake Energy Balls! Find my Cocoa Energy Balls here
Comments:
Not enough time?  No good ideas?  Not hungry for breakfast?  No longer!
We all know what excuses are like (and it ain't pretty).  I'm not going to tell you that your health and longevity absolutely depends on your eating breakfast.  But I will tell you this: you will meet your goals for energy, health, and weight, better, if you eat a breakfast low in sugar and refined carbs and high in protein and fiber.
You'll find more energy for riding, running, swimming and climbing.  Less cravings for sweets.  Less snacking.  More fat burning.
And what's more, if you follow my advice to keep your dinner "light" (just protein, healthy fats, and vegetables) and skip the sweets for dessert (my pre-sleep protein shake is a better idea), you'll wake up looking forward to breakfast.
And if you need more evidence that breakfast does a body good, check out this study on blood glucose regulation, metabolism, and breakfast (I don't preach light-at-night & eating breakfast for nothing!): Delayed Meal Times
Each of our Power Breakfasts come in at about 300-400 calories or whole nourishing foods. This is generally a good portion for most women.  Most men should add 25-50% to these amounts.  Man or woman, any of them ought to give you a kick from the get-go.  This week, (breakfast) power to the people.
Fuel Your Ride.  Nourish Your Body.
If you'd like to work with Kelli one-on-one with a Custom Nutrition Plan & Coaching, or download one of her acclaimed Instant Download Plans like Fuel Right Race Light, click here: Apex Nutrition Plans for Endurance Athletes. Be sure to use coupon code lovingthebike for a 15% discount!