Loving the BITE: Cold-Brewed Coffee for Summer Caffeine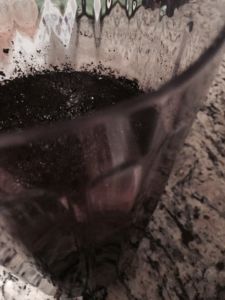 It's cold-brew season. Aka summer (or close enough, anyway). Just a few weeks ago, we discussed cold-brew green tea. Yes, please. Today, it's cold brew coffee. Why, you ask? Deliciousness. Ease. Happy-belly-low-acidity – if you're a coffee-lover with acid reflux, give this one a try. Better flavor. And, of course, it's cold for hot summer mornings.
So, I ask, why not?
Recipe of the Week: Cold-Brewed Coffee
Ingredients:
1 parts coffee grounds, very coarsely ground (such as 1 cup)
4.5 parts water (such as 4.5 cups water)
Instructions:
Stir together coffee & water in a large jar OR french press. Cover.
Allow to set at room temperature overnight or ~12 hours.
Strain twice using a coffee filter, a fine mess sieve or a sieve lined with cheesecloth. This is your coffee concentrate – it can be kept in the fridge, covered for up to 2 weeks.
Pour concentrate into a glass with ice. Now, "concentrate" is a subjective term. You can drink as is, or optionally dilute further with water at a 1:1 to 1:3 concentrate:water, or to taste.
Variations:
Place a cinnamon stick and/or whole cloves in the jar with coffee and water.
Add milk and vanilla to iced coffee.
Add raw-cocoa milk to iced coffee.
Comments:
With a few caveats, I believe coffee can absolutely be part of a healthy lifestyle.  And for athletes, caffeine can be used effectively within Training Nutrition.  For those of us who live in cold-weather states (although you wouldn't know it right now with record-breaking heat), it serves to literally warm us up in the morning.  And now, we've got a great way to keep it cool in the summer.  And, across the country, it's a wake-up call, morning ritual, and anticipated daily pleasure.  Here's how to keep it healthy.
First, coffee really should be enjoyed in moderation.  To me, moderation means 1-2 cups per day (meaning 8-10 oz. cup, not 32 oz. super-mugs).  While there is research to back up coffee's potential benefits (reduced risk of Alzheimer's disease and Dementia, reduced risk of gall stone disease, reduced risk of Parkinson's disease, improved cognitive performance, anti-diabetic properties, liver protection, possible cancer risk reduction, heart protection, reduced risk of constipation, antioxidant source, prevention of cavities, and gentle diuretic effects), there are also risks, especially to "heavy drinkers (more than 4 cups per day)."  These health risks include ingestion of potentially carcinogenic substances (the chemicals are naturally occurring and huge amounts are carcinogenic to rodents), damage to the lining of gastrointestinal organs causing ulcers and gastritis, sleep disturbances, iron deficiency anemia (can reduce absorption of iron), coffee-dependence and withdrawal symptoms, and increased cardiovascular inflammation (with ingestion of large amounts).
What's more, regular caffeine consumption, especially in large amounts can mess with your performance on the bike if you're not careful.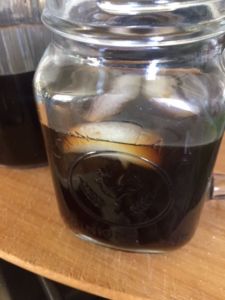 The issue with being a heavy-drinking-coffee-dependent athlete is that you've trained your body to require a certain amount of caffeine in order to simply get to baseline. Let's say that every day you drink 4 cups
throughout the course of the morning. Then, you plan an early morning ride on a Saturday.  If you can only get in 1 cup before a ride, you'll start in a deficit as far as cell stimulation.  This mostly affects your mental status, but it has a significant effect that trickles down to physical performance! Being below your baseline can cause an increased sense of effort (when you just feel like you're draggin'), headaches, and fatigue. In this case, to get to your baseline, you'll have to plan your rides around 4 cups of coffee, and you'll also only have diminished benefits, if any, from caffeine ingested while riding.  A 1-2 cup of coffee baseline is much more feasible before early rides (IF needed, and you feel that you are a bit dependent on coffee but also fear stomach issues, consider using caffeine supplements if coffee causing stomach issues before your ride).
What's more, coffee acts as a natural laxative, both as being a warm liquid (if served warm) and from naturally occurring chemicals.  While it affects runners more than cyclists, this can spell trouble for a long ride.  And for some, including myself, coffee consumption right before a ride can make my stomach feel a bit sour.
On the other hand, caffeine can also greatly benefit your riding.   These benefits come from amounts over baseline or in those who don't routinely ingest it – so, again, only moderate daily intake is a key.  With this in mind, caffeine can deliver a mental AND physical boost.  Personally, I use caffeine on the bike and on runs, and I help clients use it effectively for Training Nutrition on endurance-length rides (especially if there's a big climb at the end of a long ride).  If you'd like to try it, here are all the details.
Lastly, I am adamant that coffee and caffeine should NOT act as a band-aid for sleep deprivation (except maybe occasionally).  Our bodies depend on healthy sleep-wake cycles, and this should be a priority in our lives.  Too many times, our schedules are overflowing, and we need coffee because we don't get enough sleep.  Sleep deprivation goes beyond feeling tired…it affects our hormonal balance, metabolism, and overall well-being.  Although I think of coffee as a nice way to start my day, it should not become a crutch for normal functioning.  (This, coming for a mother with 4 kids 8 years and under…if you wanna talk sleep deprivation!)
Bonus: There are wonderful and easy ways to use up those summer coffee grounds – don't throw 'em out! My favorite is to use them in my garden. Here's how + 13 additional ways to use coffee grounds.
Coffee and cyclists seems to go together. They do in my household anyway. If you want your daily cup o' joe, and want it cold and refreshing, try this easy cold-brew recipe. You'll wake up to a wonderfully smooth and delicious cup. What a great way to start a summer day!
Fuel Your Ride. Nourish Your Body.
If you'd like to work with Kelli one-on-one with a Custom Nutrition Plan & Coaching, or download one of her acclaimed Instant Download Plans like Fuel Right Race Light, click here: Apex Nutrition Plans for Endurance Athletes. Be sure to use coupon code lovingthebike for a 15% discount!