Loving the BITE: Conquer Baba Ganoush and Relish in Beneficial Nutrients for Cyclists
Finally! I've. Conquered. Baba Ganoush.  No, that's not some awesome local ride.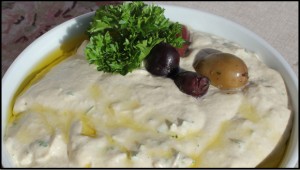 It's the wonderfully creamy, healthy, pureed eggplant dip from the Middle East region, likely served at your favorite Lebanese, Middle Eastern, or Mediterranean restaurant.  It's good.  It's good for you.  Eggplants have a variety of nutrients that are specifically beneficial to cyclists. And now, you too can use this year's eggplant harvest and impress everyone with your own Baba Ganoush magic.
Recipe of the Week:  Perfect Baba Ganoush
Ingredients:
1 large eggplant
1/4 cup tahini, plus more as needed
3 garlic cloves, minced
1/4 cup fresh lemon juice, plus more as needed
1 pinch ground cumin
salt, to taste 1 tablespoon extra virgin olive oil
1 tablespoon chopped fresh flat-leaf parsley
1/4 cup brine-cured black olives, such as kalamata
Instructions:
Prepare a medium-hot fire in a charcoal grill and preheat an oven to 375°F.
Prick the eggplant with a fork in several places and place on the grill rack 4 to 5 inches from the fire.
Grill, turning frequently, until the skin blackens and blisters and the flesh begins to feel soft, approx. 10 to 15 minutes.
Transfer the eggplant to a baking sheet and bake until very soft, 15 to 20 minutes.
Remove from the oven, let cool slightly, and peel off and discard the skin (ah man, so many antioxidants!).
Place the eggplant flesh in a bowl and mash the eggplant to a paste, using a fork or masher.
Add the 1/4 cup tahini, the garlic, the 1/4 cup lemon juice and the cumin and mix well.
Season with salt, then taste and add more tahini and/or lemon juice, if needed.
Transfer the mixture to a serving bowl.
Drizzle with the olive oil, sprinkle with the parsley, and place the olives around the sides.
Serve and enjoy!
Comments:
Eggplants may not be everyone's go-to vegetable.  And Baba Ganoush may not be your go-to dip.  But it should be.  Between the fresh garlic, tahini, cumin, unheated olive oil, AND eggplants, you're about to bombard your body with some whole-food goodness.  Eggplants, like other vibrantly colorful whole foods, have a lot to offer nutritionally, especially in fighting free radicals.  Serve up eggplant this week, and you'll get a Powerhouse of antioxidants:
Anthocyanins: These phytonutrients are found in the eggplant's skin, and are responsible for the dark purple color (similar to red grapes and red cabbage).  One specific anthocyanin, nasunin, is a potent antioxidant and free radical scavenger that has been shown to protect cell membranes from damage, especially the fats in brain cells. These fatty membranes are responsible for monitoring what comes in and out of these cells…a very important function, especially for a brainy cyclist, like yourself.  With Baba Ganoush, you omit the skin.  So, try the Eggplant smoothie below to consume the skin.
Whole Body Oxidative Stress Reduction: Nasunin, Chlorogenic acid and eggplant's other antioxidants reduce free radical formation with numerous beneficial results, including protecting blood cholesterol (which is also a type of lipid or fat) from peroxidation; preventing cellular damage that can promote cancer; and lessening free radical damage in joints, which is a primary factor in rheumatoid arthritis.
Cholesterol Reducers: If you've got high "bad" LDL cholesterol, there are good reasons to eat eggplants.  In animal studies, eggplant juice (sounds yummy, right?) has lowered bad cholesterol in the blood, in the artery walls (this is where it forms plagues), and in the aorta (you know, just the artery that returns blood from the heart back into circulation).  I'll take some eggplant, and blood and arteries from of oxidized cholesterol plagues.
Bonus: Reduce Free Radicals with an Eggplant Smoothie
Athletes need extra antioxidants, and their intake has been shown in study after study to improve overall health and wellness from the cellular-level on up.  This is one reason I recommend whole-food recipes over processed bars, drinks, or convenience foods, when possible.  This week, try adding some raw eggplant to your smoothie: Mix 1 cup berries or pitted cherries, 1/2 cup diced eggplant (skin-on), 1 cup plain yogurt (or ½ cup Greek yogurt or 1 scoop protein powder), ½ Tbsp organic coconut oil, 1 Tbsp honey, 1 Tbps almond butter.  Blend until desired consistency, adding water and/or ice as needed.
Free radicals, beware!  Down with you, bad cholesterol!  We've got Baba Ganoush (I just like saying it) and eggplant's potent antioxidants are ready to fight.  This week, stay healthy.  Ride on.
Fuel Your Ride. Nourish Your Body.