Loving the BITE: Delicious Anti-Inflammatory Turmeric Smoothie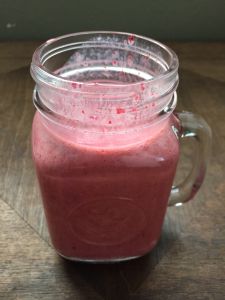 You may think this is just going too far.  It's one thing to put turmeric in a curry sauce, but quite another to start adding it to a morning smoothie.
Well, I dare you.
There are oh-so-many reasons to add turmeric (and ginger) to just about everything. If you haven't noticed, I do add these to everything – smoothies are always ginger smoothies for me. Turmeric goes right in most sauces. And, my homemade chocolate milk recovery snack – a nice heaping teaspoon of ground ginger tastes delicious and my joints thank me later.
So why not? This week, we'll go beyond ginger and add fresh turmeric root to our smoothies. We're talking, not 1, not 2, but 4+ anti-inflammatory ingredients to start your day. I'd like to see Wheaties do that.
Recipe of the Week: Delicious Anti-Inflammatory Turmeric Smoothie  
Ingredients:
1 cup Greek yogurt OR 1 scoop high quality protein powder (I recommend undenatured whey)
1 cup tart cherries (or berries) – fresh or frozen
1/3 avocado
1/2-1 cup greens
1/2 Tbsp coconut oil
1 Tbsp ground flax or chia seeds
1/2″ fresh turmeric root (doesn't need to be peeled) OR 1/2 tsp ground turmeric
1/2 " fresh ginger root (doesn't need to be peeled) OR 1/2 tsp ground turmeric
1/2 tsp ground cinnamon
water as needed for desired consistency (I usually use 1/2-1 cup water)
Directions:
Place all ingredients in a blender and process until smooth(ie).
Comments: 
I don't know if you can find a more anti-inflammatory smoothie than this, other than throwing in some salmon. Personally, I can't bring myself to do that. Salmon aside, here are the anti-inflammatory all-stars in our Turmeric Smoothie:
Undenatured whey is a special protein powder as it contains a whey that has not been heated to a high heat or pasteurized.  What's special about this? The cysteine in the whey (an amino acid) remains intact in it's original form, and it can promote increased glutathione production in your cells. Glutathione is one of the body's self-made, powerful antioxidants, and it helps cells fight off and repair damage.
Tart cherries have powerful antioxidants that specifically decrease pain and inflammation in the joints. Much of the research has been done on those suffering from gout, but even those without gout report reduced pain.
Flax and chia seeds are good sources of vegetarian omega-3s, or ALA. This omega-3, along with those from seafood and algae, encourage the body to make less inflammatory hormones.
As reported over and over and over in Loving the Bite (what can I say, I love and am intrigued by ginger), ginger has strong antioxidants and anti-inflammatories that reduce joint pain and muscle soreness. This has been known since ancient times amoung many Asian populations, and has been further verified in recent studies. Cinnamon is also a fantastically nutritious spice, full of antioxidants.
Turmeric contains curcumin, a powerful antioxidant and anti-inflammatory nutrient. It has been shown to reduce inflammation and everyday damage to cells, reduce cholesterol and provide cardiovascular protection, improve liver function, and possibly even protect against Alzheimer's Disease.
Pretty fantastic ingredients, huh?
A few words on inflammation:
When you think of inflammation, what pops into your head?  Red, swelling tissue around a cut or injury?  That works.  But, do you realize that inflammation is a cellular issue?  And, not only does it impact cellular recovery and repair, it is at the center of many of our chronic diseases and obesity issues.
Some foods and nutrients, like sugars, processed foods, omega-6 fats (soybean oil) actually cause our cells to become more angry and red, more inflamed, because they promote an increase in inflammatory hormones in the body.  This leads to all sorts of chronic disease and health issues.  On the other hand, some foods and nutrients, like those mentioned above, cause our cells to become calmer, happier, and less inflamed.  And, what's more, anti-inflammatory nutrients and foods work in prevention.  If you're overall balance of hormones is toward being anti-inflammatory, your body will respond better when it's injured, sick, or cut at a cellular level.
This week, let's fight the good fight against chronic inflammation with this delicious smoothie. Ginger, turmeric, cherries and more for joint health and full body health from the cells on up!
Fuel Your Ride. Nourish Your Body.