Loving the BITE: Delicious Orange Curd & Yogurt for Training Recovery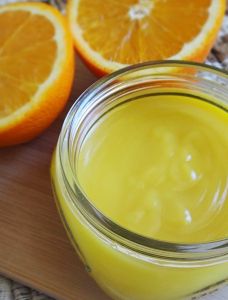 Curd. Not the most appetizing word in the world, but one of my favorite, most appetizing treats and fuels. Just thinking about the tangy sweet deliciousness of orange or lemon curd makes me smile. But just for a moment since it's tough to smile while simultaneously devouring some curd.
This week, let's take the flavor of our recovery fuel up a notch with a delicious helping of Orange Curd & Yogurt (or cottage cheese or whatever protein you choose). Or, if you're looking for a delicious pre-ride meal, 2-3 hours before a long September ride, you'll love Orange Curd, Yogurt, & Waffles. The best part, making a real-food recovery fuel is easier than you might think – just a few minutes of prep and you'll be smiling, too!
Recipe of the week: Easy Honey Coconut Orange Curd
Ingredients:
2 tablespoons finely grated orange peel
3 large eggs
2/3 cup fresh orange juice (about 2 large oranges, juiced)
2 tablespoons organic coconut oil
1/2 cup organic honey
Instructions:
Combine the first 4 ingredients in a saucepan over medium heat, stirring constantly with a whisk until thickened, about 3-5 minutes.  Remove from heat and stir in honey.  Cool. Cover and chill (the mixture will thicken as it cools). Yield: ~2 cups
Lemon Curd can be stored in the refrigerator for up to 1 week and also freezes very well. Thaw in the refrigerator, and use within 1 week of thawing.
Can also be made with lemons, limes or even grapefruits (for the daring).
Comments:
Never had a curd?  I'll tell it to you straight: you simply haven't lived.  I was introduced to it by friend about 10 years ago…I haven't eaten a pancake or waffle the same since (see below).  And true to Loving the Bite form, we've kept this delicious orange curd recipe to just 15 minutes and 5 simple, nourishing ingredients.  Here's how to use it for the sake of some strong cycling:
Pre-Training: 
If you're short on time, try ¼ cup orange curd straight or with just a couple of Tablespoons plain yogurt.  It will provide relatively long-lasting energy for a short ride (honey breaks down similarly to maltodextrin in terms of speed).  Or, try it on top of one slice of bread like similar to how you'd use jam.
If you've got a longer time-frame before riding and are riding for more than 2 hours, try 1 small whole-grain waffle or pancake with 1/2 cup plain yogurt and ¼ cup orange curd 2-3 hours out.  And, you may want to save some for recovery.
Recovery:
You can use the waffle pancake option (but increase yogurt to 1 cup), the simply yogurt/orange curd option with 1 cup yogurt and ½ cup orange curd, or try a smoothie:
1 cup plain yogurt, 1 cup berries, 1 cup greens (spinach, kale, or basil, for example), ¼ cup orange curd, ½ cup water.  Mix in blender and process until smooth.  Add ice and process until at desired consistency.
As far as nutrition:
Eggs give us a "gold-standard" protein in albumin, leucine which specifically helps prevent muscle breakdown and promotes lean tissue protein synthesis and many important vitamins. And minerals such as choline, Vitamins A, D, E, and K, phosphorus, calcium, iron, iodine, selenium, and zinc.
Oranges are great for high levels of Vitamin C (a powerful antioxidant), anti-nausea properties (similar to lemons), anti-bacterial compounds, mucus-busting action, and anti-cancer properties.
Organic honey provides antioxidants, carbohydrates for efficient fuel and glycogen replenishment, and natural enzymes that aide digestion and improve nutrient absorption.
Organic coconut oil is made up of medium chain triglycerides (MCTs). These special saturated fats are quickly digested and metabolized like carbs, bypassing the normal slow, bile-dependant digestive path of most fats. What's more, they are used directly by the energy powerhouses of the cell, the mitochondria, and offer more than twice the calories (energy) of carbohydrates per gram.
Here are two good reasons to eat curd: good pre-training and post-training fuel.  And one more for your best friends, your taste buds (if you're still reading, you're welcome for that one). This Fall, orange curd will hit the spot while fortifying your body.  Optimal fuel means faster recovery, less fatigue, and more power and endurance on the bike.
Fuel Your Ride. Nourish Your Body.