Loving the BITE: Fresh Lemon Fuel Bars
Another ride.  Same ol' bar.  If your fuel on the bike is anything less than inspiring, it's time to make a change.  This week, we've got a Lara Bar-ish knock-off that's sure to refresh your taste buds, legs, and wallet.    It's no-bake, easy to make, and uses only 6 whole-food ingredients.  And, this is not your grandma's granola bar.  It just happens to be perfect for your ride.
Recipe of the Week: Fresh Lemon Fuel Bars
Ingredients:
1 1/2 cup raw cashews
2 lemons
18 pitted Dates
2 Tbsp organic honey
¼ tsp salt
1 Tbsp organic coconut oil*
Instructions:
Place cashews and dates in food processor, process until finely chopped.  Zest 2 lemons, juice 1 lemon.  Add zest, juice, honey and salt to food processor.  Process until smooth, but not quite a paste (this doesn't need to be exact).  Press into a greased bread loaf pan (if it's sticky, you can use wax paper to press).  Place in freezer 1 hour, or in refrigerator until firm.  Cut into 12 equal bars or squares.  Store in refrigerator – wrap in plastic wrap to take with you.
*If you're planning on having these while ridin gor when it's warm, they may fall apart due to the coconut oil melting (~78 deg F). If this is the case, either plan on eating them straight out of a baggie, or omit the coconut oil.
Makes 12 bars.
Nutrition (per bar): 192 calories, 20 grams carbohydrates, 5 grams protein, 52 mg sodium, 258 mg potassium, 16 mg calcium, 82 mg magnesium
Comments:
Instead of a stale, processed bar that tastes overly sweet and sugary, you can enjoy a homemade version that's citrusy and fresh.  With 20 grams carbohydrates and 5 grams of protein, it's perfect fuel before or during your ride.  And, with 200 calories, healthy fats from cashews, and protein, it's got sticking power that will last through some tough hours of cycling.  What else can it do?  Well, its key ingredient, lemons, has a lot to offer for training and for overall health and disease prevention.  They provide:
High levels of Vitamin C, a powerful antioxidant that works in the body to fortify the immune system, fight free radicals that can build up during intense physical work, and reduce the symptoms of osteoarthritis.
Anti-nausea properties.  When you're nauseous, not many things help.  However, the smell and  taste of lemons can provide relief.  Since many athletes feel slightly nauseous when eating on the bike, including fresh lemons can ease an unsettled belly.
Anti-bacterial compounds.  These components of citrus can reduce putrefactive bacteria in both the intestines and the mouth, and thereby provide fresher breath and reduced gastrointestinal distress.
Mucus-busting action provides relief to athletes who suffer from build-up while training.  If you ever feel like you're constantly "working the junk out of the lungs," you've got a friend in lemons.
Unique flavonoid compounds that have anti-cancer properties.  In fact, limonoids have been shown to help fight cancers of the mouth, skin, lung, breast, stomach and colon.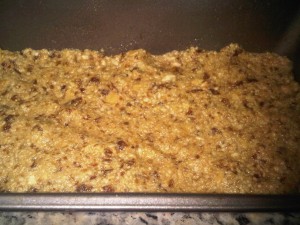 Issues in temperatures over 78 deg F: Anytime you use a coconut oil-based recipe, you'll have some issue with them melting and falling apart when their environment is warmer than about 78 deg F (temperature at which coconut oil melts).  When I'm riding in the Spring/Summer, I often smash these into cubes or balls rather than leaving them as bars…as smashed as I can get them…they hold up better. Or, I simply eat them right out of the baggie, like you would a gel – kind of. In this case I actually appreciate not having to chew as much when I'm working hard on the bike. I always find it annoying when I bite into something hard-to-chew when I'm breathing hard from pedaling. Alternatively, if this is a deal-breaker, try either freezing the bars ahead of time OR leaving out the coconut oil (although I don't recommed the latter since coconut oil is a valuable fuel).
For lasting energy with fresh lemony flavor, eat one bar 1-2 hours beforehand, or during the first half of any 2+ hour ride.  With any luck, you'll ride stronger, have fresh breath, less mucus, and not one hint of nausea.  In the long run, you'll reduce risk of cancers and fortify your immune system.  Not bad for a bar.
Fuel Your Ride.  Nourish Your Body.