Loving the BITE: Gear Up with a Homemade Chai Latte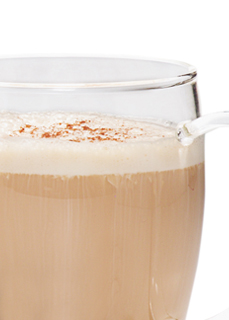 How about a Autumn afternoon Chai Latte to keep you warm or aide in recovery after a cold ride?
If you've been to your favorite coffee house lately (Mudsharks, anyone?), you may have been tempted by the wonderful smell of a Chai Latte.  It just smells like Autumn to me.  Turns out, its black tea leaves are full of wonderful nutrients and powerful antioxidants, just like green tea.  These nutrients are incredibly beneficial to a cyclists' health.
This week's Loving the Bite Recipe will kick off the cooler-weather season with a nice warm cup of Chai Latte.  Perfect for a warm recovery drink after a cold ride!
Recipe of the week: Homemade Super-Antioxidant Chai Latte
Ingredients:
Ingredients After Brew –
4 Tbsp organic honey or real maple
When serving:
1/4 cups organic dairy or non-dairy milk (such as coconut milk, almond milk, or non-GMO soy milk)
Instructions:
Place first 8 ingredients in a pot (through water).  Boil 5 minutes, then steep 10 minutes.
Add tea leaves, bring to a boil and simmer 5 minutes.
Strain tea and spices.
Add honey to hot liquid and mix well.
To mix and serving, mix individual servings of ¾ cup tea with ¼ cup warmed milk (you can adjust ratio of tea to milk as desired).
Store remaining tea in the refrigerator. Then warm individual servings of tea as desired (stovetop or microwave), and serve with milk as above. Enjoy. (Serves 8 1-cup servings)
Make it Dirty: Add 1/4-1/2 cup very strong coffee or espresso.
To use for recovery: Mix tea and milk 1:1 with 8 oz. tea and 8 oz. organic milk.  Add 1 Tbsp organic honey.  This will provide 220 calories, 27 gm carbs, 8 gm protein.  You can increase the protein further, if desired with ½ scoop vanilla protein powder.
For a non-dairy Latte Recovery: Replace milk with 8 oz. unsweetened non-dairy milk & 1/2 scoop favorite vanilla protein powder.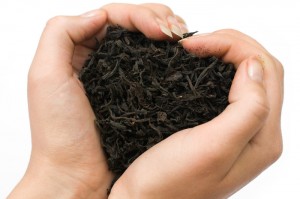 Comments:
While you know of the benefits of green tea (if you don't, you can read all about it here), you might think less of black tea.  Turns out, black tea offers a lot of nutrition, too.  Both green and black tea come from the same plant, the Camelia tea plant.   The difference is in the methods used for drying the leaves.  Green tea leaves are not fermented; they are withered and steamed. Black tea and oolong tea leaves undergo a crushing and fermenting process.  Nevertheless, black tea is still loaded with antioxidants that can have a big impact on our recovery from training, health, and longevity.
Drink 2 or more cups of black tea per day and you'll:
Get big-time cellular detoxifying benefits that protect cells from free radicals, the damage that can lead to blood clot formation, atherosclerosis, and cancer.  Both green and black tea block DNA damage associated with tobacco and other toxic chemicals in studies.
Consume 10 times the polyphenols (antioxidants) found in most fruits or vegetables.  You're not off the hook for eating fruits & vegetables, though, so don't chuck your salad just yet.  While tea is a very concentrated source of antioxidants, it contains different ones than fruits and vegetables.  And just like a Thanksgiving Dinner, the more the merrier, so drink tea AND eat your fruits and vegetables.
Lower your risk of heart disease, certain cancers, high blood pressure, and obesity.  This is confirmed in both human population studies and lab studies with rats.  People groups that drink the most tea certainly have lesser amounts of these diseases, and tea-drinking rats have less as well.
Potentially lower your risk for allergic reactions, bone loss, diabetes, and Parkinson's disease.
Recover better.  Although carbs, proteins, and fluids are the primary recovery nutrients, don't discount the importance of antioxidants.  They fight the free radicals that build up during training and damage your cells, and improve health from the cell on up. A 16 oz. recovery serving of our Chai Latte will give you fluid, protein, carbs, and these powerful antioxidants.
All this, plus the incredible benefits of organic honey or real maple and a plethora of antioxidants from spices dissolved right into every cup. And just in case you're wondering, caffeinated drinks do, in fact, contribute to the hydration of your body when the caffeine level is less than 500 mg or so (4-5 cups strong coffee).  The caffeine dehydration myth has been debunked.  So, have some tea, and count it.
Loving the BITE Bonus: Cold-brewed Tea (even in the Autumn!)
[youtube https://www.youtube.com/watch?v=RR50yKREFxI]
Click here to subscribe to Apex Nutrition TV and never miss a new video!If it's cold outside where you live, or even if you live on the equator, you'll love chai tea (cold brew it!). We cyclists need our free-radical-fighting-antioxidants anywhere we can get them.  Go ahead and ride in the cold.  A nice warm recovery latte will be waiting.
Black tea image c/o www.tiestatea.com.
Fuel Your Ride. Nourish Your Body.
If you'd like to work with Kelli one-on-one with a Custom Nutrition Plan & Coaching, or download one of her acclaimed Instant Download Plans like Fuel Right Race Light, click here: Apex Nutrition Plans for Endurance Athletes. Be sure to use coupon code lovingthebike for a 15% discount!