Loving the BITE: Health-Upgrade Balsamic Dressing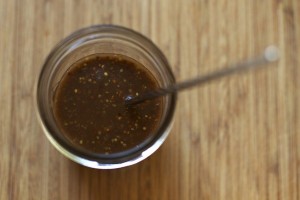 Here's a shocker: I think more of our foods should be made at home.  I think when you buy a prepared food at the store, the time you save with buying it rather than making it should be spent checking (and double checking) the ingredients list.  I think athletes can stay healthy, recover better, train better and feel better when they make the right decisions at the store and in the kitchen.  And speaking of the ingredients at the store, it's your primary piece of nutrition information.  Not the nutrition label, but the ingredients list.
Any savvy food company can manipulate a food and recipe to make it look okay on the nutrition label.  Then, they can use their best marketing strategies to add nutrition claims and fancy wording to make it seem healthy.  It's not hard.  But the ingredients tell more of the story.  There may still be loopholes that allow chemical man-made ingredients to be called "natural flavors" and whatnot, but if you really want to know what you're putting in your body, you'll find more clues in the ingredients than any nutrition label.
Or, even better, start with the basic wholesome ingredients, mix them together, and end up with a wonderfully flavorful dressing and sauce that will have you begging for more veggies.  Here's how, and how this dressing could change your health.
Recipe of the Week: Delicious, Easy, Balsamic Dressing
Ingredients:
6 oz. extra virgin olive oil
6 oz. balsamic vinegar
2 Tbsp prepared mustard
1/2-3/4 tsp salt
1/2 tsp garlic powder
1/2 tsp pepper
Instructions: Mix all ingredients.  Use as dressing, marinade, sauce over cooked meats and vegetables, in grill packets, and in stir-fries.
Comments:
Walk into any grocery store, and you'll likely find hundreds of dressings from which to choose. Hundreds.  And, some of them only cost a dollar.  So, why in the world would you go through the trouble of making your own?
Because there's what you get.  And what you don't.
First, here's what you get:
Balsamic Vinegar (and a lot of it!):  Balsamic vinegar is a powerhouse of nutrients, including a rich array of vitamins and minerals: calcium, iron, magnesium, phosphorus, potassium, and manganese.  These nutrients, and the vinegar as a whole, help the body by slowing the rate as which carbohydrates are absorbed, reducing blood sugar swings and potentially reducing risk of diabetes.  Additionally, since fast reaction with the metabolism of carbohydrates can affect insulin levels and fat storage, balsamic vinegar can help the body use less insulin and store less fat.
Olive oil: A great source of healthful omega-9 monounsaturated fats, olive oil is a staple of the Mediterranean Diet which has become known for improving heart health numbers and overall wellness. Monounsaturated fats can help reduce LDL cholesterol, while improving good HDL cholesterol.
Flavor: Good balsamic vinegar and good olive oil are a match made in Heaven.  They blend for a smooth flavor, seldom found in commercial varieties.
And, what you miss:
Soybean oil:  This cheap, unhealthy oil is loaded with omega 6 fats, which compete with omega 3 fats and influence the body to produce more inflammatory hormones.  Increased inflammatory hormone production, and overall chronic inflammation, are hallmarks of most all chronic disease.  Reducing your intake of these can truly change your health (more below).
Sugar:  Don't be shocked when you begin seeing sugar, or even syrups, as main ingredients in dressing when you start looking (often listed in the top 5 ingredients).  And, for what? Not everything needs to be sweet, and good dressings taste great without added sugar.
And, a bucket-load of junk:  Again, while the nutrition label may look similar (or even better to anyone mindlessly minimizing calories and fat) to our dressing, the ingredients tell a different story.  Here's the ingredients list for a generic Balsamic Vinegar Dressing at my local store (Kroger brand): Water, Balsamic Vinegar, Soybean Oil, Distilled Vinegar, Sugar, Salt, Olive Oil. Less than 2% of Garlic (Dehydrated), Basil (Dehydrated), Red Bell Peppers (Dehydrated), Black Pepper, Onion Powder, Xanthan Gum, Paprika, Potassium Sorbate and Sodium Benzoate (Preservatives).  
As for changing your health, it's all about reducing chronic inflammation in our bodies.  Good fats, especially omega-3s but also monounsaturated fats like olive oil, help our bodies by reducing our production of inflammatory hormones.  Omega-6's on the other hand, do the opposite.  And, we get loads of them.  Most all foods contain some, and unfortunately for anyone buying dressing and condiments at the store, soybean oil is a concentrated source of them.  Start looking at the lists, and you'll see soybean oil in food after food, simple because it's an inexpensive oil food companies use to increase profits (hard to sell dressing for a dollar when it contains high-quality olive oil). In order to help our bodies out, it's important to start getting more omega 3s while also vastly reducing omega 6s, especially from processed foods loaded with unhealthy oil.  That's where our delicious balsamic recipe comes in.  As cyclists, the more you can stay healthy, from reducing chronic inflammation to improving joint health to fueling right, the better.
This week, we'll keep it simple and take small steps to reduce omega 6 intake.  You should be eating your veggies, but don't do it naked.  Dress 'em right.
Fuel Your Ride.  Nourish Your Body.
image c/o www.grantustheluxury.com