Loving the BITE: Healthy Carrot Cake Snack Bites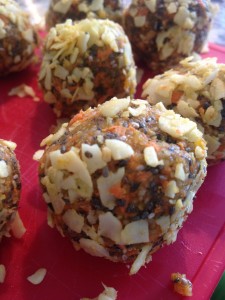 Are nutrient-packed, fresh, healthy foods really affordable?  I've gotta tell you, one of my pet-peeves is when health advocates swear that eating whole, real foods will actually save you money compared to buying unhealthy ones.  Sure, if you eat out every night, you'll save money buying healthy foods from the store and making dinner at home.  Or, when you compare the cost of managing and treating a disease to buying healthy foods, the foods are a steal.
But when some insist that it's really not that expensive to feed your whole family 5+ servings of fruits and vegetables per day, with some organic choices, grass-fed meats, organic dairy, BPA-free organic canned foods, seafood, etc., they either don't live in the real world or they don't shop for themselves.  Do they know you can buy 10 packages of Ramen noodles for the price of an organic apple?  Doesn't seem like it.
Don't worry, no one has hacked this post. Healthy foods can be expensive and I'd like to call it what it is…expensive, but important and worth it.  I've very aware of my grocery budget for a healthy-eating family of five.  To me, the healthy foods are worth many sacrifices in the overall budget.  They are above fancy restaurant dinners, brand new latest clothes, and more.  They're right up there with quality gear and bike parts:).  And while I often recommend ingredients that I realize are not cheap, I do so with the realization that they are important.  And, I always hope the homemade fuel saves you a few bucks as it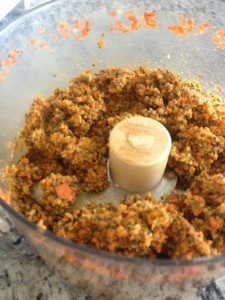 does me.  With all this talk of money, we've come to this week's ingredient.
Carrots.  Carrots are nutrient-packed, even beyond many other vegetables. And, even organic carrots are CHEAP per serving.  Along with foods like dry beans and eggs, they are SuperFoods that fit into most any budget.  And this week, we're sneaking them into awesome snack bites.
Recipe of the Week: Healthy Carrot Cake Snack Bites
Ingredients:
3/4 c. roughly chopped carrots
1/2 c. raw cashews*
½ cup hemp seeds*
¼ cup chia seeds*
3/4 c. dried apricots, chopped**
1 Tbsp. grated ginger or 1/2 tsp ground ginger
1/2 tsp. cinnamon
zest of 1 orange
1/2 c. shredded unsweetened coconut flakes
Instructions:
Roughly chop carrots and then place in food processor.  Process/pulse until finely chopped.  Add all additional ingredients except coconut.  Process ingredients until mixture is very finely chopped and sticks together well.
Shape the mixture into 12 (1-inch) balls. Roll in coconut flakes to coat. Refrigerate until ready to serve, or up to five days.
*Can substitute nuts, chia, and hemp for each other as needed.
**Can try other dried fruits such as mango, golden raisins, dates, etc.
Nutrition information (per 1 ball): 135 calories, 9 grams carbs, 9 grams fat , 5 grams protein, 4 grams fiber
Comments:
Carrots aren't just cheap.  Per serving, carrots have A LOT to offer cyclists.  They contain:
Carotenoids: Along with spinach and pumpkin, carrots are among the kings of carotenoids.  Specifically, carrot contain the super antioxidant, beta-carotene.  As most of us know even from early childhood, carrots and high blood beta-carotene levels are good for your eyes, specifically the prevention of glaucomas a we age.
Polyacetylenes as an anti-cancer agent:  Polyacetylenes are in carrots that inhibit colon cancer cell growth.  In fact, the polyacetylenes and carontenoids in carrots seem to work together to reduce these growths, with the carontenoids protecting the nutrients in the carrots (antioxidant action for the polyacetylenes) and our own cells.
Cardiovascular Health Protection: A recent 10-year study from the Netherlands has shown a strong correlation between carrot intake and reduction in cardiovascular risk.  In fact, carrots emerged as one of the most potent cardiovascular health benefactors among fruits and vegetables.
Healthful Nutrients: Beyond it's unique healthful qualities, carrots also provide Vitamin C, B Vitamins, minerals such as copper, calcium, potassium, manganese and phosphorus, and fiber.  They are easy to add to any eating plan, easy to pack, and don't need any special prep (just wash and eat without peeling!).
Don't feel like make snack bites? Don't want to pay for the other more expensive ingredients? No problem!  Make a large carrot part of your everyday lunch or an everyday snack.  Every day.  You'll get eye protection, cancer-protection, cardiovascular-protection, and more.  Each carrot's packed with nutrients you need for overall wellness and strength on the bike.  Yes, on the cheap.
Fuel Your Ride.  Nourish Your Body.