Loving the BITE: High Energy Coconut Chocolate Cashews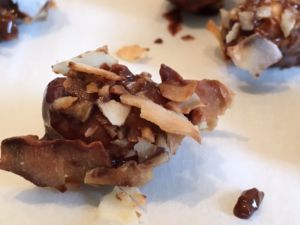 Since I fed you cucumber last week, I thought it was high-time for some dessert. And no, these aren't low-fat, low-taste, diet dessert. If you've been here awhile, you know I'd never do such a thing.
We're not going for diet. Or skinny. Or scared. We're going for real foods, real satisfaction, real fueling, and real dessert. Fit, strong, lean, healthy, and happy.
And these tasty little bites are just the ticket to big satisfaction with high-energy cashews. With only 5 ingredients, they are a breeze to whip up. You're only about 5 minutes away…
Recipe of the Week: Dark Chocolate Coconut Cashews
Ingredients:
1/2 cup roasted cashews or macadamia nuts (optionally roasted and salted)
1/2 cup dark chocolate morsels, at least 70% cocoa (or cut a bar into chunks – here's what I use)
2 Tbsp organic coconut oil (here's what I use)
1 tsp real vanilla
1/2 cup natural coconut flakes (can be found in most natural grocer bulk)
sea salt (optional IF nuts are unsalted)
Instructions:
Mix chocolate, coconut oil and vanilla in bowl. Place in microwave and melt on high for 30 seconds. Stir well. Continue to melt in intervals of 15 secs in microwave, stirring well, microwave, etc., until smooth.
Meanwhile, toast coconut flakes over mediumhigh on the skilled, stirring constantly, until golden brown (usually takes about 2-3 minutes). Remove from heat.
Once chocolate is melted, place nuts in chocolate to cover. Then, place in coconut flakes, stirring to cover. Place on parchment-covered plate (or greased plate), sprinkle with salt (optionally), and then place in fridge until hardened.

Comments:
Really, these are a just-for-fun food. I'm not going to claim any super-human power, fueling magic, or secret fat-fighting weaponry. Just fun, delicious, and satisfying. All with real foods.
This is not to say they are not nourishing. They have plenty to offer. But, they are dessert – a treat.  I believe treats are a very healthy part of a healthy eating plan lifestyle. In fact, when I work with a client, we plan on up to 150 calories of just-for-fun food or drink, every day. This helps clients overcome crav
ings and diet mentality, allows for delicious foods, and improves satisfaction and results.
But, if your in it for the nourishment, here's what cashews have to offer:
1)  They are loaded with monounsaturated fats (MUFAs).  In fact, their specific MUFAs, the cleats and oleic acid (same as found in olive oil) are great for helping improve good cholesterol while reducing bad cholesterol.
2)  Antioxidants: The antioxidants found in cashews promote heart health and healthy cells – our cells constantly deal with oxidative stress, and we need all the antioxidants we can get!
3)  Copper: Few foods give us this essential mineral component of many enzymes that contribute to physiological processes such as iron utilization, elimination of free radicals, development of bone and connective tissue, and the production of the skin and hair pigment called melanin. Actually, for all you science buffs out there, copper is an essential component of the enzyme, superoxide dismutase, which is important in energy production and antioxidant defenses.
Okay, there's a little bit of amazing energy production? And, I'll take it.
It's also necessary for the activity of lysyl oxidase, an enzyme involved in cross-linking collagen and elastin, both of which provide the ground substance and flexibility in blood vessels, bones and joints.  Remember, when you're cycling, you want arteries that a healthy enough to accommodate the increased amounts of blood pulsing through your body.  Stiff arteries = increased blood pressure.
What's more, numerous health problems can develop when copper intake is inadequate, including iron deficiency anemia, ruptured blood vessels, osteoporosis, joint problems such as rheumatoid arthritis, brain disturbances, elevated LDL (bad) cholesterol and reduced HDL (good) cholesterol levels, irregular heartbeat, and increased susceptibility to infections. No thank you!
4)     Magnesium: Another underrated nutrient…It's vital for healthy bones, helps regulate nerve and muscle tone (by balancing calcium), and reduces risk of gallstones.  When it's t
oo low, there's an increased risk for high blood pressure, muscle spasms (including spasms of the heart muscle or the spasms of the airways symptomatic of asthma), and migraine headaches, as well as muscle cramps, tension, soreness and fatigue. Just a quarter-cup of cashews provides 22.3% of the daily value for magnesium.
If you'd like to know more about the nourishing qualities of cocoa, see our recent post on Cocoa Energy Balls – and while raw cocoa is best, the cocoa in "high-cocoa" chocolates still offer these goodies.
I believe dessert is important to an athlete, even one trying to maintain a lean weight. This is about lifestyle, not diet. This is about nourishment, not calorie-counting. See food as fuel. And when it comes to sweets and treats, have a small portion and be satisfied. These are so rich, with dark chocolate, cashews and coconut, it only takes 2-3 and I'm done. And happy. Try 'em this week and be a happy cyclist, too.
Fuel Your Ride. Nourish Your Body.
If you'd like to work with Kelli one-on-one with a Custom N
utrition Plan & Coaching, or download one of her acclaimed Instant Download Plans like Fuel Right Race Light, click here: Apex Nutrition Plans for E
ndurance Athletes. Be sure to use coupon code lovingthebike for a 15% discount!