Loving the BITE: Homemade Peanut Butter for Nutrition and the Ride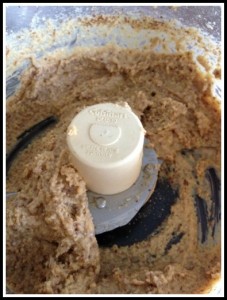 What's better than peanut butter?  Homemade peanut butter.  Or, for the adventurous, homemade chocolate peanut butter.  If you've never tasted freshly ground peanut butter, or almond butter, or cashew butter, or walnut butter for that matter, you've simply gotta try it.  It's easy to make and it works well for long rides and everyday nutrition.  Not to mention, it's just in time for back-to-school.   And, while I generally always choose whole foods over manipulated or processed ones, I'll introduce you to a peanut butter product that may help you increase your protein intake without loads of calories – just in case you're into that stuff.
Recipe of the Week:  Freshy Fresh Peanut Butter
Ingredients:
16 oz. peanuts, almonds, cashews, sunflower seeds, or any mixture of them (pick your preference: raw, dry roasted, salted, nnsalted)
1-2 Tbsp almond oil, olive oil, flaxseed oil or avocado oil
¼-½ Cup ground flaxseeds (optional)
Salt, to taste (optional)
Instructions:
Place the nuts and flaxseeds (optional) in a food processor and beginning processing. It may take some time. And beware, it's loud.
Scrape the sides, if needed. If it seems to dry, add oil (small amounts as needed).
Keep processing until desired consistency. If you like crunchy nut butters, add more nuts to the processed, smooth butter and process as needed.
If using unsalted nuts, add salt to taste, if desired.  Mix well.
 Place nut butter in clean mason jars or containers and store in the refrigerator.
Comments:
I know, I know, peanuts are more of a legume than a nut, and they are so commonplace they get little respect compared to the mighty almond and walnut.  But I like 'em.  And, while they are actually in the family of foods related to peas, chickpeas, and lentils, they work, logistically like nuts as a snack and in nut butters.  They provide a good source of protein and don't break the bank.  Additionally, they give us:
Monounsaturated Fats – the hallmark heart-healthy fat of the Mediterranean Diet.
Vitamin E – a powerful antioxidant that promote healthy neurological functions and decreased plague build-ups by cholesterols in blood
Folate – a B-vitamin that promotes heart health by reducing homocysteine levels and decreasing risk of stroke
Manganese – a mineral and antioxidant that helps the body utilize other nutrients, keeps bones strong and healthy, maintain normal blood sugars, promotes healthy thyroid function and maintain nerve health
Protein – about 8 grams per ¼ cup peanuts, or 2 Tablespoons peanut butter
Fiber – over 50% of the carbohydrates in peanuts (6 grams in ¼ cup)
Resveratrol – the acclaimed heart-protective antioxidant found in red grapes and red wines
P-Coumaric acid – an antioxidant, which actually increases with roasting, that may decrease the incidence of cancers including stomach cancer
But, are they a good choice on the bike?
On rides 3 hours or longer, I believe peanut butter can be a great choice.  It will provide protein, some long-lasting energy, and a stomach filler that can decrease nausea without causing stomach cramps.  Since the nuts are mechanically broken down, digestion is eased which decreases risk of stomach issues and increases the availability of nutrients during the ride.  But, as a high fat food, it's not a super-fast energy source and is therefore not really a good choice for shorter rides.  It can be added to a pre-ride smoothie consumed 1-2 hours before the ride, or in a recovery smoothie effectively.
Bonus Product Review: Peanut Flours and PB2: 
For anyone out there trying to up protein intake or keep calories in check, there are defatted peanut butter products out there.  If you know me, you know that I usually always recommend whole foods, and not the more processed products that are low-fat (I generally don't believe a "low-fat" diet is the way to go for weight loss or health).  However, I also have many clients looking for easy ways to add more protein to their diets, to have some variety, and to keep overall intake and calories in check.  Some of these clients are trying to do so on a vegetarian/vegan diet.  Who ya gonna call? Peanut flours and PB2.
These defatted, nut powders contain ~50 calories per 2 Tbsp (rather than 200 calories in peanut butter), 6-8 grams of protein (compared to 8 grams in peanut butter), and are low fat since the fat has been pressed out.  They can be reconstituted with water for a peanut butter-like spread, or added directly into smoothies or oatmeal.  They can be used with different flours for grain-free cooking.  Or, they work as thickeners in sauces.  For many people, they are a versatile, packable, high-protein option.  Have you tried 'em?  If so, what do you think?
Bonus recipe: Homemade Chocolate Peanut Butter
One of my food obsessions is Dark Chocolate Dreams by Peanut Butter and Company.  I often use it as a training food with a banana or honey 30-60 minutes out, or as part of a recovery when mixed with coconut oil after a ride.  It's smooth, it's chocolatey, and unlike Nutella (sorry Nutella), it is nutritious.  If you'd like, you can ask me about Nutella sometime.  For now, here's a recipe for making your own Dark Chocolate Peanut Butter: Mix 1.5 cups smooth homemade peanut butter, 4 Tbsp organic cocoa, 6 Tbsp cocoa butter OR organic coconut oil (melted), 1/4 cup organic honey OR agave, and 1 tsp real vanilla in a food processor.  Process until smooth.  Refrigerate in an airtight container.
We're officially at peanut-butter-information overload.  If you're like me, you'll have no problem finding a place in your diet and in your household for each peanut butter option.  To increase the variety of nutrients you consume, I recommend mixing up your nut butters with different options and combinations.  But, be sure to keep peanuts in the rotation.
Fuel Your Ride.  Nourish Your Body.