Loving the BITE: Honey Applesauce for Whole-Food Fuel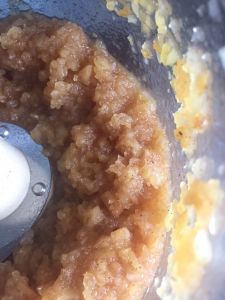 It's officially apple season! And, if you're looking for a delicious, easy way to use your harvest or farmer's market deals, look no further than applesauce. This week, we'll make it with honey (a great fuel for cyclists!) and use it at pre-training fuel. It also works well on the bike, with breakfast over oatmeal, or on top of pork chops – lots of options.
There's still time for beautiful Autumn rides, so why not fuel it with honey applesauce?
Recipe of the week: Easy Honey Applesauce
Ingredients:
2 lbs apples, cored and chopped into 1-inch chunks (can be peeled or left unpeeled)
¼ cup water
½ tsp cinnamon, or to taste
¼ cup organic (raw, local if possible) honey
Instructions:
In a large pot, mix chopped apples and water. Bring to a boil over medium high heat. Lower heat to medium-low, and cover and cook over for ~15-20 minutes stirring frequently.
Remove from stove and allow to cool. Once cooled, place cooked apples & liquid, honey, and cinnamon in a food processor (preferred) or blender. It may take multiple batches. Process to desired consistency.
Stir all batches together.
Store in covered container and refrigerate to store. Freeze any portions not used within 3 days.
nstant Pot Instructions (this is one I use and here's how it's changed my life🙂
Place cut apples & 1 cup of water in Instant Pot. Close and set to manual high pressure for 8 minutes (make sure steam vent is sealed). Allow to set for 2-3 minutes once finished, release pressure and allow to cool slightly. Pick up instructions above at step #2 EXCEPT discard liquid from Instant Pot and place apples, honey & cinnamon in processor.
Pre-Ride fuel for a Ride up to 3 hours: Simply eat 1/2-1 1/2  cups as is and then get on the bike for a great ride. Make sure to add fuel during the ride when riding longer than 90 minutes.
Pre-Ride fuel for longer Rides, 3+ hours: For longer rides, your body can use a few extra nutrients in addition the wonderful carbs found in this applesauce. Consider adding 1 Tablespoon of melted organic coconut oil for great medium chain triglycerides, 1/2 cup or 1/2 scoop protein powder for sustained energy and a leg-up on muscle recovery, and 1/12 tsp salt for a sodium pre-load. Even more nourishment packed in to a delicious pre-ride fuel option!
Comments:
We all know apples are great for the body (and if you missed it a couple week ago, you can find my list here). But, how does honey applesauce specifically make for good pre-ride nutrition?
Carbohydrates: Carbs are simply the body's preferrred fuel during a ride, and the long-lasting carbs from cooked apples and honey are a great choice. Since these apples are in pureed form, rather than fresh, raw form, they will digest faster to provide energy more efficiently without the risk of stomach cramps. In addition, honey (organic, raw) works great for training fuel is well-documented throughout my posts.  It  is a great source of quickly metabolized carbs that provide lasting energy similar to maltodextrin.  It's made up of almost equal parts glucose and fructose, so works well as a stand alone or within a recipe such as this. nd, as long as it's organic or raw, honey will provide enzymes that aid in digestion and antioxidants that promote cellular health.
Enzymes: The natural enzymes found in live foods, such as fresh fruit and organic honey can aide digestion.  Since many athletes experience digestion issues on the bike, the more enzymes to help, the better.
Antioxidants: The more work your body's doing, the more biochemical reactions are taking place.  With more reactions, you can get more of a build-up of free radicals and oxidative stress.  In both the short-term and the long-term, this can spell trouble at the cellular level.  The antioxidants found in fruits and organic honey can neutralize these trouble makers.
And, if you add the extra ingredients for long rides:
Protein: Protein can be important before long rides (in pre-training fuel, not necessarily "during training").  As long as you choose sources that are easy for you to digest, personally, they are a great compliment to carbohydrates.  I choose plain dairy yogurt because it provides both a fast acting (whey) and a slow acting (casein) protein.  If you have any issues digesting casein, you can substitute whey protein, or another protein powder.
Probiotics: I'm a fan of consuming these healthy bacteria before and after training.  Why?  They can reduce gastro-intestinal issues even in the short-term, increase the absorption of antioxidants, improve recovery, and even beneficially impact VO2 Max.
Medium Chain Triglycerides:  These special saturated fats are quickly digested and metabolized like carbs, bypassing the normal slow, bile-dependant digestive path of most fats.  What's more, they are used directly by the energy powerhouses of the cell, the mitochondria, and offer more than twice the calories (energy) of carbohydrates per gram.  Organic coconut oil happens to be a great source of medium chain triglycerides.
Salt: Salt is a simple ingredient that can add a concentrated form of sodium for training. Just 1/8 tsp adds 300 mg sodium which can increase blood volume, and decrease the impacts of sodium loss including over-heating.
BONUS – Big Announcement & New Site:
Do you have any friends, family or acquaintances that would enjoy my nutrition recipes, tips & plans without the sports nutrition emphasis? Or maybe you'd like another? A place for a healthy, fit, adventurous life (but not the training nutrition)? If so, please check out and share my new site, Fresh Fit Life (www.freshfitlife.com). I thrilled to be able to extend my writing, plans, and work to athletes and 'non-athletes' alike, and will hopefully inspire all to be fit and healthy (this will NOT) affect my work here @ Loving the Bike  or at my Sports Nutrition site www.apexnutritionllc.com.
This Week: If you've got an apple problem in the form of a huge harvest, make applesauce, freeze it, and enjoy all these performance and health benefits for the months to come. Or, head to the store for great in-season prices and do the same. Whole, real foods are a great way to fuel your ride & nourish your body.
Fuel Your Ride. Nourish Your Body.