Loving the BITE: Need a Better Snack? Roasted Beet Hummus
Beets are so amazing, they qualify for great Daily Nutrition & Training Nutrition. They help with oxygenation of muscles when cycling, and offer host of other bodily benefits for those hours when you're not (the "dark" hours).
If you need any convincing to add beets to your diet, you'll find it here and now.  This week, we've got a wonderfully delicious roasted beet hummus, and all the reasons you'd ever want to add in beets. What's more, we'll review the benefits of using beetroot juice or powder in pre-training nutrition. Turnip up.
Recipe of the Week: Lettuce Turnip the Beet – Roasted Beet Hummus
Ingredients:
1/2 pound beets (about 4 medium sized beets), scrubbed clean and dried (you maybe able to find these already roasted in your supermarket!)
2 Tbsp tahini sesame seed paste
5 Tbsp lemon juice
1-2 small cloves garlic, chopped
1 Tbsp ground cumin
1 Tbsp lemon zest (zest from approx. 2 lemons)
pinch of sea salt or Kosher salt, more to taste
Fresh ground pepper to taste
Instructions:
Pre-heat oven to 375 deg. F.  
Place on large foil sheet (whole).  Drizzle with olive oil, avocado oil, or melted coconut oil.  Fold foil into a foil pouch, making sure all sides are pressed together well.  Roast in preheated oven until tender enough to piece with a fork (~35-45 minutes, depending on exact size).
Allow beets to cool.  Once cooled, you should be able to slip peels off with your fingers.  If not, use a pairing knife to peel beets.
Then, place all ingredients in a food processor or blender, and process until smooth.  Taste and add more cumin, salt, or pepper as needed.  Store in refrigerator (up to 4 days) or freezer. Use as a sandwich spread, dip for veggies (yes, that veggie on veggie goodness), or "sauce" for meat dishes.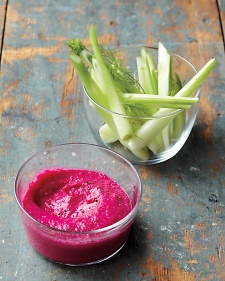 Comments:
You may have read my posts about beets before.  I love them, and I am always trying to add them into my diet somehow. This hummus is an excellent way!  When you eat beets, you get the "Big 3" wellness punches: antioxidants, anti-inflammatories, and detoxification nutrients.  Specifically, beets contain:
Belatins:  These phytochemicals (remember, phytochemicals fight disease) provide the beautiful reddish-purple hue known to beets and contribute to all 3 wellness punches at a cellular level.  They fight free radicals, fight inflammation, and support detoxification of the cells.  Like other superfoods, they support the production and work of glutathione, a powerful antioxidant our cells make to fight damaging substances.  And, in lab studies, they have successful slowed the growth of tumor cells.
Carotenoids: Beets are an awesome source of both zeaxanthin and lutein.  These antioxidant vitamins go beyond everyday free-radical-fighting to support eye health, especially fighting against age-related eye diseases.
Betaine: Made from choline (a B-vitamin), betaine is a nutrient that specifically works to decrease bodily inflammation.  By decreasing inflammation, betaine may decrease risks of cancers, heart disease, plaque build-up in arteries, diabetes, and obesity.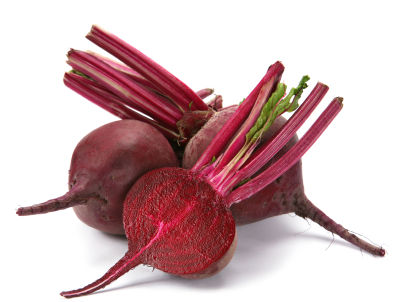 Super Fiber:  While all fiber is good, not all fiber is the same.  Beets and carrots contain specific fibers and pectins that provide special benefits to our digestive tract and cardiovascular systems.
Minerals: Beets contain a variety of minerals.  Two in particular, copper and iron, work to "build your blood" and make it healthy and strong.
And, you might just experience colorful urine.  No joke!  About 5-15% of adults in the US are estimated to experience beeturia, urine that is red or pink, after eating beets.  So, if you try our Loving the Bite recipe this week, don't be too alarmed by beeturia.  There may be some connection with this condition and an issue with iron metabolism, though.  If you experience beeturia, and suspect iron deficiency, iron excess, or iron metabolism to be a problem affecting your health, please consult with your healthcare provider.
Bonus: Better Oxygenated Muscles with a Miracle Juice
We've also discussed the benefits of beetroot juice and powders in training nutrition.  Specifically, the nitrites produced dilate arteries allowing for better blood and oxygen flow to muscles.  What's more, they affect muscle cells by increasing oxygen uptake as well.  You can read all the details, including how to add it to training fuel, here.
Beets are great for everyday nutrition and training.  If you like dips, spreads, and sauces, this week's Loving the Bite may be a great way to add more to your diet.  For better health, and better cycling, Lettuce Turnip the Beet.   
Fuel Your Ride. Nourish Your Body. 
Image c/o wholeliving.com
If you'd like to work with Kelli one-on-one with a Custom Nutrition Plan & Coaching, or download one of her acclaimed Instant Download Plans like Fuel Right Race Light, click here: Apex Nutrition Plans for Endurance Athletes. Be sure to use coupon code lovingthebike for a 15% discount!