Loving the BITE: On (or off) the Bike Sweet Potato Snacking Chips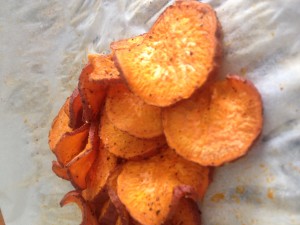 After the popularity of last year's Sweet Potato Cycling Fuel options, I thought it was high-time to share my newest, favorite way to eat them.  Sweet Potato Chips.
These are a delicious, savory option on the bike, a great food for snacks or to round out a meal, and a nutrient powerhouse whenever you'd like them.  And, what's more, they can be made in less than 10 minutes.
Recipe of the Week: Savory Sweet Potato Chips
Ingredients:
2 large sweet potatoes, sliced as thin and uniformly as possible (if you have a mandolin, it works best)
1 teaspoons chili powder
1/4 teaspoon garlic salt
1/8 teaspoon smoked paprika
1/8 teaspoon cumin powder
1/8 teaspoon kosher salt
1/8 teaspoon cracked black pepper
2 Tbsp melted organic coconut oil, high oleic sunflower/safflower oil, or extra virgin olive oil
Instructions: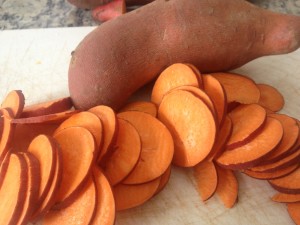 Conventional:  Preheat oven to 400°F. Combine seasonings and oil in a large bowl.  Add sweet potato slices and toss to coat.  Place slices on sprayed cookie sheet in a single layer.  They can be touching but not overlapping.  Bake only one sheet at a time, flipping the sweet potatoes half-way through, until centers are soft and edges are crisp, usually a total time of 22-24 minutes.  Watch baking times carefully, especially the last few minutes to avoid burning (times will vary oven to oven).
Super Quick:  Follow conventional instructions, except, don't heat oven.  Cover microwave plate with parchment paper.  Place slices in a single layer in microwave and cook on Power Level 9 for 3 ½ to 5 1/2 minutes, until crispy but not burnt.  I started with 3 1/2 minutes, and then cooked for 30 seconds at a time until crispy (they will get crispy once they curl up a bit).  It may take a little trial and error to sort out the time.  The thinner the slices, the quicker they'll cook and crispier they will be.  Repeat until all are cooked.  Allow cooked slices to set for 5 minutes.
Even Faster:  Don't feel like slicing and cooking?  You can find good quality ones at most stores.  Try a minimal-ingredient option such as "Food Should Taste Good" sweet potato chips.
Comments:
If you've missed the reasons why we might eat Sweet Potatoes on and off the bike, here are a few.  Sweet potatoes provide:
A vast array of antioxidants including very high levels of Vitamin A and beta-carotene that fight free radicals and promote reduced oxidative      stress.
Anti-inflammatory nutrients including glycoproteins that promote cellular health
Carbohydrates that promote steady blood sugars and even-keeled energy
And, when do I recommend real food options on the bike?
For the casual cyclist, you can use these any time you'd like in place of "sports food" gels and bars.  They provide long-lasting carbs and are worth carrying if cycling for 2 hours or more.
For the serious cyclist, I recommend meeting fluid, carbohydrate, and sodium goals every hour.  For more information on these hourly goal specifics, see this short Cycling Video Tip.  Then, for longer rides, I recommend a savory, real-food option every 2-3 hours.  If not too big a portion (think ½ a sandwich or less), not a hard-to-digest food (no pizza or steak), and one that offers nutrients your body can use (long-lasting carbs), it usually improves digestion, satisfaction, and sodium intake while riding.
But doesn't the microwave kill nutrients, plants, and cells? I know there may be readers who have sworn off microwaves.  Of course, this is fine and they'll want to use the convention method for these chips.  Others would never think of such a thing.  And many, wonder how microwave affect the safety and nutrients in our foods.
From what I can find in research (I'm certainly not a microwave physicist), the results are somewhat mixed.  The safety issue doesn't seem to be too much of an issue with typical use.  Although most nutrients are decreased at least slightly with any cooking method, many retain the same levels as with conventional cooking.  Some are decreased more.  And, others show higher retention likely due to less cooking time.  As for the recent plant-dying-after-being-fed-microwaved-water-experiment re-circulating around the web, I think it's been debunked with other plant studies more than once.  This is not to say everyone should microwave food or I think it's the best method all the time.  I'm a self-described endurance athlete hippie.  I make my own yogurt every 3 days.  And still, at this point, in a pinch I'm willing to use my microwave.  Even sweet potato chips.
Which reminds me.  It's about time to get out on my bike and eat some!
Fuel Your Ride. Nourish Your Body.