Loving the BITE: Pumpkin Cookie Pedaling Fuel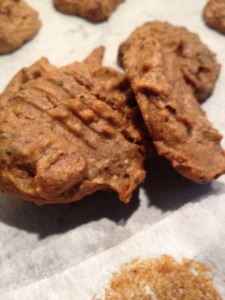 Oh how I love a good cookie on a long ride. Lemon cookies, oatmeal, and peanut all power my pedealing from time to time. But, it's autumn, and that can only mean one thing in baking world. Forgive me, but I'm giving into the pumpkin mania:
Recipe of the Week: Dark Chocolate Pumpkin Cookies Fueling
Ingredients:
1 Cup natural creamy almond butter, peanut butter, cashew butter OR sunflower seed butter
1/4 cup honey (local, raw if possible) or pure maple
1/2 cup pumpkin puree (organic if possible)
1/3 cup chia seeds
1.5 tsp pumpkin spice
1 tsp vanilla
1/4 tsp sea salt
1/3 cup dark chocolate chips (preferably 60%+ cocoa) OR coconut flakes
Directions:
Preheat oven to 350 degrees F. In a medium bowl, mix all ingredients, folding chocolate chips (or coconut flakes) in last.  Spoon onto a cookie sheet lined with parchment paper, about 1 heaping tablespoon per cookie.  If you'd like flatter cookies with the traditional criss-cross design, gently press down each mound with a wet fork.
Bake ~12-15 minutes or until slightly browned around edges.  Allow to cool before serving.  Enjoy! Makes ~18-24 cookies.
Comments:

Yum! Who doesn't like cookies on a ride? But why should we succomb to the pumpkin-craze, even on the bike?
First, they are full of wonderfully healthy whole-food ingredients like almond butter, chia seeds, and honey.  Together, these pack in a great balance of healthy proteins, fats, and carbohydrates – all great fuel for long bike rides. But, the star of these cookies is the pumpkin.  Here's what it has in store for you:
Antioxidants: Alpha-carotene, beta-carotene, beta-cryptoxanthin, lutein, and zeaxanthin.  These antioxidants will work together to fight free radicals, reduce risk of cancer, promote heart health and reduce plague formations, and preserve eye health.
Anti-inflammatory nutrients: The cell walls contain pectin, and this pectin contains components that are anti-inflammatory.  A high anti-inflammatory diet can lead to less chronic bodily inflammation which means less chronic bodily disease.  Pumpkin seeds offer their own anti-inflammatory components that may reduce arthritis.
Anti-cancer action: Specifically, a reduction in the risk of prostate cancer  most likely due to zinc and components in pumpkin seed oil. (So, roast all the pumpkin seeds you get your hands on!)
Heart-Health Components: Pumpkin seeds contain phytoestrols which can reduce "bad" cholesterol.
Additionally, fiber, monounsatured fats, omega-3s, B-vitamins, and copper (important for energy production).
Just for fun, here's a list of 31 Pumpkin Puree Recipes from Greatist.com: http://greatist.com/health/awesome-weird-healthy-recipes-canned-pumpkin
Baked in less than 20 minutes total, and easy, real-food fuel on the bike.  Happy Pumpkin Season!
Fuel Your Ride. Nourish Your Body. 
If you'd like to work with Kelli one-on-one with a Custom Nutrition Plan & Coaching, or download one of her acclaimed Instant Download Plans like Fuel Right Race Light, click here: Apex Nutrition Plans for Endurance Athletes. Be sure to use coupon code lovingthebike for a 15% discount!