Loving the BITE: Real-Food Valentine's Fruit Pastries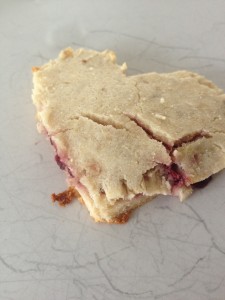 Poptarts.  There are few foods that scream "processed fake food" to me as much as Poptarts.  It may seem harsh, but these breakfast substitutes are made with nothing but refined grains, covered in partially-hydrogenated frosting, and filled with fake-fruit filling.  They are the epitome of super-processed foods.  And, yet, they stay on the market. They sell.  You may even eat one every now and then.  Believe it or not, I'm not against sweets. As most readers know, I actually think athletes need quick-acting carbs for training fuel.  And, I'm okay with dessert foods being filled with sugar and even made with refined grains.  When you eat a dessert, you know you're eating a dessert.  Hopefully you indulge every now and then, or with small portions, and you enjoy it.
My problem is when a dessert (and a fake-food one at that) is disguised as breakfast and sold to kids all over the country, by an official food sponsor of Olympics athletes.
And here's where we come to Loving the Bite.  This week, those brave enough are making poptarts…sort of.  Ours will only have up to 8 ingredients.  All real foods.  Made with nuts, fruit, chia, organic coconut oil, organic honey and optionally added protein powder.  And, just in time for Valentine's Day, we'll make them heart-shaped.  Aaaahhhh, sweet.
And those not brave enough…well, you'll know exactly why you should avoid Poptarts from the grocery store if you want to ride at your potential.
Recipe of the Week: Real-Food Valentine's Fruit Pastries
Ingredients:
For fruit filling:
1 and ½ cups fresh or frozen berries, cherries, mango, or other fruit (if frozen, thawed and drained)
1/4 cup chia seeds
1-3 Tbsp honey – to desired taste
1 scoop (20 gm) Undenatured whey or other protein powder, or 1/4 cup PB2
For the dough:
1 and ½ cups almond flour
¼ cup coconut oil melted
1 medium banana (1/3 cup)
Dash of salt
Directions:
Prehea5 oven to 350 deg F. Place fruit, chia, 1 Tbsp honey, and optionally protein powder in blender or food processor and blend until smooth.  Add honey if desired.  Allow to set and gel while making dough.
Meanwhile, on stovetop and in a small skillet, melt the coconut oil and cook banana until softened.  Mix the almond flour and salt in bowl.  Add melted coconut oil and banana.
Spread dough onto parchment paper.  Layer another piece of parchment paper on top of the dough and flatten out using a rolling pin.  Freeze the dough for 10-15 minutes.
Clean up the kitchen!
After freezing, use a heart-shaped cookie cutter to cut the dough or make squares. Peel away the dough around the hearts or square and roll scraps for more pastries. Place a small amount (1 tsp) of filling on one heart and cover with another heart.  Use a fork to press gently around the edges of the heart to pinch the pop tart together.
Bake for 12-15 minutes. Enjoy!
Comments:
Dissecting and interpreting food labels, food packaging, and food commercials can seem next to impossible.  And, it's not by accident.  The food industry is a billion dollar industry, and the more they mislead us, the better for a food manufacturer's bottom line.  Whole, real foods are best for us.  These are not generally "manufactured." So, a food manufacturer that makes processed foods has some work to do to make theirs seem as good as nature's.
You don't have to look far to start seeing the lies.  Whole grains (when made mostly with refined and just  a smidgen of whole).  Trans-fat free (when made with partially hydrogenated oils but rounded down to zero grams on the food label).  One serving fruit when very little real fruit is used.
What's a healthy cyclist to do?  Skip the packaging, assume most everything on the front of the product is a lie unless proven otherwise, and even skip most of the nutrition label initially (that's right, because knowing it has 20 grams of carbs, but not knowing from what, is of little value).  To get to the bottom of the healthfulness of a packaged food, zoom right into the ingredients.  This will give you an indication of just how "real" a food is.  Or, how processed.  How fake.
Here's a poptart's ingredients list: Wheat Flour Enriched (Wheat Flour, Niacinamide (Vitamin aB), Iron Reduced, Thiamine Mononitrate (Vitamin B1), Riboflavin (Vitamin B2), Folic Acid (Vitamin aB)) , Corn Syrup, Corn Syrup High Fructose, Dextrose, Soybean(s) Oil Partially Hydrogenated and/or, Cottonseed Oil, Crackermeal Contains 2% or less of the Following: (, Wheat Starch, Salt, Strawberry(ies) Dried, Apple(s) Dried, Pear(s) Dried, Leavening (Baking Soda, Sodium Acid Pyrophosphate, Monocalcium Phosphate) , Citric Acid, Wheat Starch Modified, Corn Starch, Caramel Color, Xanthan Gum,Soy Lecithin, Niacinamide (Vitamin aB), Iron Reduced, Red 40, Yellow 6, Vitamin A Palmitate,Pyridoxine Hydrochloride (HCL), Riboflavin (Vitamin B2), Thiamin Hydrochloride (Vitamin B1), Folic Acid (Vitamin aB).
And, here are my interpretation and what it means to an athlete:
Wheat Flour Enriched – this means refined wheat flour.  It's not "whole-grain"…it's white, refined, and has the bran (fiber) and germ (vitamins and minerals) removed.  Sure, it's from wheat, but it's not whole-wheat.  After being refined and stripped of nutrients, it's then "enriched" with the addition of some "after-market" vitamins and minerals.  In the body, it acts the same as sugar.
Niacinamide through Folic Acid – These are B Vitamins that have been added.
Corn Syrup – refined, simple syrup.
Corn Syrup High Fructose – maybe they are trying to confuse us by putting the words in a the wrong order.  Oh Kellogg's, we're not confused.  High Fructose Corn Syrup is a refined syrup that has been altered chemically from it's natural state.
Dextrose – refined, simple syrup.
Partially hydrogenated oils – transfats that may promote heart disease and non-alcoholic fatty liver disease.
So far, we've got refined grains  that act like sugar in the body, three sources of refined sugar, and fatty liver disease.  Awesome.  If eaten for daily nutrition, this can mean energy crashes and unbalanced hormones.  If used in training nutrition, it can be a quick-acting source of carbs, but at the cost of transfats and high fructose corn syrup.  You do better.
Next, we've got very small amounts of fruit.
Then, dyes, preservatives, and more added vitamins and minerals (likely so they can market it as somehow healthy).  Nothing that will help you become a better cyclist.
If I sound negative, I am.  I can't help it. Poptarts are horrible for you.   And, as an athlete, you need fuel that's energizing, fresh, and healthful.  You need your legs, heart, brain, and body to work for you.  Give it the fuel it needs to do so.
This week, reach for real foods.  If you'd like to get creative in the kitchen, make our Loving the Bite "pop-tarts." Your heart, and your Valentine, will thank you.
Fuel Your Ride. Nourish Your Body.