Loving the BITE: Savory Quinoa Breakfast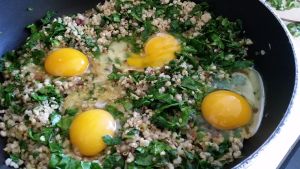 (During the last few months, I had the pleasure of working with a Nutrition Student as an intern. Today's Loving the Bite is by Mirka Gores).
Breakfast is an important part of the morning routine. It provides fuel for the day and can help inspire you to make better choices about the food you eat throughout the rest of the day.  A great way to start the day is a breakfast that includes protein, carbohydrates, fat, and fiber.
One or our favorite family breakfasts provides everything you need to start the day out right. We make it almost every other day and each time a little different. We call it "Savory Quinoa". It contains more grains than just quinoa, but it's easy to say. The basic ingredients are the same every time we make it – quinoa, buckwheat, millet and amaranth for the grains, eggs, coconut oil and veggies (we change up the veggies for variety).
My recipe will have 2 parts today. Part one describes how to make grain mix and part two shows the whole breakfast. We always make the grain mix ahead of time and keep it in the fridge in a stainless steel container for up to one week (we make a lot of it).
Recipe of the week: Savory Breakfast Quinoa
Grain Mix Ingredients:
1 cup quinoa
1 cup buckwheat (Yes, it does have the word "wheat" in it but it's Gluten Free.)
1 cup millet
½ cup amaranth
5 ½ cups water
Pinch of salt
Grain Mix Instructions:
Bring water to boil and add salt and millet. Cook millet for 3 minutes and then add the rest of the grains. Cook uncovered for about 15 minutes. Stir occasionally. When done cooking cover the pot and let it sit, stirring every 5 – 10 minutes until all the water is gone and the grains are nice and fluffy. Let it cool and transfer to a container to store it in the fridge.
We always make "Savory Quinoa" the night before we need it for breakfast. When you have your grains ready in fridge you can use them for any meal you want. It will save you time and help you make better choices about your other meals.
Savory Quinoa Breakfast Ingredients:
2 cups grain mix
5 eggs
1 small or ½ of large onion
1 small summer squash
½ cup mushrooms
2 cups spinach
Greens (these can be any veggies you like; we prefer collard green, kale, chard, rainbow chard, beet greens, and kohlrabi greens)
Coconut oil
Spices – dill, cilantro, basil, turmeric or curcumin, salt, fresh ground pepper
Savory Quinoa Instructions:
First simmer onions and mushrooms in coconut oil, then add squash with a little bit of water and cover. When squash is soft, add greens and Grain Mix then cook for maximum of 5 minutes. Meanwhile, whisk the eggs and add them to the pan (sometimes I just crack them and add them whole). Add spices (dill, cilantro, basil, turmeric or curcumin), salt, fresh ground pepper, and then cook until you like the consistency of the eggs. Serve with a side of avocado, sprouts or tomatoes.  Serves 3 -4.
Comments:
This breakfast will fuel you for the morning and help keep your craving for sugary snacks down to a bare minimum. It provides you with healthy protein in the form of eggs, healthy carbohydrates in the form of grains, and plenty of vitamins and minerals in the veggies and eggs (vitamins K and A). The whole grains and veggies will also give you fiber.
If you don't like any of the grains, you can take them out of this recipe. Spinach can be substituted for any kind of greens. In our family we rotate the veggies a lot (collard green, kale, chard, rainbow chard, beet greens, kohlrabi green). We sometimes also include greens like lettuce or arugula as sides.
And what about buckwheat? It's a wonderful ingredient you might want to add to your own pantry. You may be surprised to learn that not only is it gluten-free, but it's not really a grain at all. Instead, it's actually a fruit seed related to rhubarb. What's more, research has shown that it is great for your cardiovascular system, improves blood sugars and reduces risk of Diabetes, helps prevent gallstones, has fiber-lignans that protect against heart disease, and shows significant cardiovascular benefits for postmenopausal women. (www.whfoods.com)
Whatever you choose for breakfast, aim for a delicious, real-food, nourishing one like what I've presented today. You'll feel great, be satisfied, and have plenty of energy for whatever rides or adventures come your way.
Fuel Your Ride.  Nourish Your Body.