Loving the BITE: Sourdough for Pre-Ride Nutrition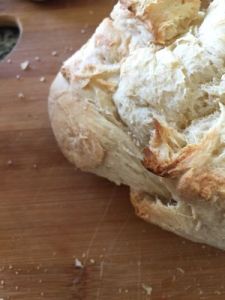 Some foods are special. Some have characteristics that go far beyond numbers of calories, carbs, protein, and fats.  In fact, most real, whole, raw, and traditional ones do (it's those made-in-factory ones that are little more than a pile of calories).
One such food, one of my favorites, is sourdough bread.  Although I eat a minimal amounts of bread overall, I've made room in my eating plan for sourdough…and I love it for training nutrition.
Why? It's easy to digest. It's got a relatively low glycemic index which correlates with less blood sugar spike, and more lasting energy.  And, it's a wonderfully delicious and savory option for Training Fuel.
Want to know more? There are many sweet things about Sourdough:
Recipe of the week: Coconut Honey Sourdough for Pre-Ride Nutrition
Ingredients:
1 slice high-quality sourdough bread (if able to get it fresh at a bakery, do so)
1 Tbsp organic coconut oil
1 Tbsp raw and local honey
Directions:
1. Toast sourdough.
2. Spread on coconut oil while warm.
3. Add honey.
4. Eat 15-30 minutes before your ride (of up to 120 minutes). If riding longer, double recipe.
During your ride: For rides longer than 2 hours, slices of sourdough can be used as training fuel. For those longer than 4 hours, sourdough with 1 Tbsp. nut butter and 1 Tbsp. honey work well as your "every 2-3 hour" real food option.
Recovery: For recovery after 2+ hour rides, or for a "recovery meal," I love 1 slice Sourdough with 1 Tbsp. coconut oil and 1 fried egg + a banana on the side!
Comments:
You know what makes the difference in sourdough? Probiotics, or good bacteria.
It's those same bacteria that impart so many health benefits in your own gut, lactobaccilus, that chemically change the composition of sourdough bread compared to other breads.
Just like in your own body, the bacteria break down the ingredients in sourdough. First, they break down the gluten, or protein found in many grains, so that it's no longer the hard-to-digest protein so many people have to avoid. In fact, many people who avoid gluten can eat a sourdough bread without symptoms.
Next, the bacteria break down and change the carbohydrates. Sourdough bread has a lower glycemic index  (a measure of the affect of a food on blood sugar), than most breads…in fact, it has a score of 53 making it a low glycemic good (traditional white bread has a glycemic index of).  This means more even-keeled blood sugars, and lasting energy rather than peaks and valleys.
Don't be fooled though, sourdough is not a source of healthy bacteria for you. Once it's popped in the oven and baked, the bacteria are no longer viable (these bacteria die around 110 deg. F). Their work is done.
To be clear, I'm not recommending you eat sourdough bread all day long. Like most carb-heavy foods, it needs to be balanced with good proteins and fats at meals. Also, if you're interested in fat loss, I recommend omitting carbs/grains at dinner, and including portion-controlled amounts at daytime meals and snacks. Whole carbs like baked yams, beans, quinoa, and fruits should make up the majority of your carbs choices, with a little sourdough her and there if you'd like. And, described above, there's certainly room for sourdough in Training Nutrition.
Bonus Tip: Are you interested in making your own Sourdough Bread? It's not the easiest to master, but I have found a simple, quick method that I love. It's using the Master Recipe in "Artisan Bread in Five Minutes per Day" (found here) using the method of keeping some old dough from the previous recipe each time and adding to it (and not washing the container so the healthy bacteria continue to grow). I let the dough rise/ferment for at least 24 hours before refrigerating. What's more, I add 1 cup plain yogurt and/or the liquid drained off my Homemade Yogurt (which allows me to make Greek-style yogurt) to add more lactobacillus.
If you'd like to include bread in your diet, consider sourdough as you're go-to bread. Lower glycemic index, delicious, and easily digested and tolerated on the bike.
Fuel Your Ride. Nourish Your Body.