Loving the BITE: Strike Gold with Kale and Greens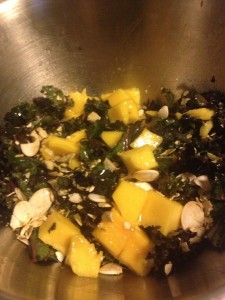 I'm feeling lucky.  This week, I finally figured out how to serve Kale, in its wonderful, super-nutrient, raw form.  For months, I've been forcing my family to grin and bear it as I "snuck" raw kale into the greens of our dinner salads.  Even the three-year-old wasn't fooled.  Sure, he grumbles, but he'll eat raw spinach and broccoli, both obviously green.
Kale, not so much.  And, sure, I've made Kale chips and put kale in our smoothies.  But, I wanted it in our salads.  And once you know what it can do for you, you will too.  I've been called stubborn.  As the Luck of the Irish would have it (my name's Irish at least), this week, I've struck gold.  Or green, rather.
Recipes of the Week: Absolutely Delish Massaged Kale Salad
Ingredients:
1 bunch kale, stalks removed and discarded, leaves sliced thinly
1 lemon, juiced
1/4 cup extra-virgin olive oil, plus extra for drizzling
Sea salt
2 teaspoons honey
Freshly ground black pepper
1 mango or peach (diced small), or 1 cup raspberries diced small
¼ cup pine nuts, sunflower seeds, or chopped toasted walnuts
Instructions:
In large serving bowl, place sliced kale, half of lemon juice, a drizzle of oil and a dash salt. Massage until the kale starts to soften and even wilt, 2 to 3 minutes. Set aside.
Meanwhile make the dressing.  In a small bowl, whisk remaining lemon juice, honey, and lots of freshly ground black pepper, to taste. Pour in 1/4 cup of oil while whisking until a dressing forms.  If  you'd like, double this simple dressing recipe and pour over sautéed chicken strips for a complete meal.
Pour the dressing over the kale, and add the mango and seeds/nuts. Toss and serve.
Comments:
It might sound not like much, but this salad is that good.  And if you haven't heard, kale, especially in the raw form, is that good for you.  It is uniquely packed with detoxifying super-nutrients, and it really ought to be part of your vegetable rotation.  Really.  Here are some specifics:
First, here are five reasons: Kale's loaded with vitamins and minerals, anti-inflammatory, anti-cancer, antioxidant, and cholesterol lowering nutrients. This is great, and will help cyclists recovery well and stay healthy, but not necessarily unique.  Many vegetables rank high with these.
Well, like I said, kale's special and it's your lucky day. It actually supports our cells' complete detoxifying process. Our cells are bombarded with toxins each day. When they are overloaded and need to detox, they undergo a 2-step process: Phase 1 and Phase 2 detoxification (I'm thinking the same thing…these phase names are a bit of a let-down).  Kale is unique in that its glucosinolates, antioxidants that contain sulfur and nitrogen, make compounds that support both phases of detoxification.  Yes, please.  What cyclist couldn't use a bit of green detox from time to time?  Especially if you're planning on celebrating St. Patty's Day with something besides kale.  Like, gasp: beer.
Bonus Recipes: Want More Greens Deliciousness for St. Patty's Day?
I know you do.  There's no need to dye foods green this Holiday when nature's given us a vast variety of festive goodies.  Check out Spicy Broccoli Soup, Savory Basil OR Spinach Pesto, and Kale Chips.
Hopefully, your luck is looking up.  And as always, this week, may the road rise to meet you.