Loving the Bite: Super Recovery Ice-Cream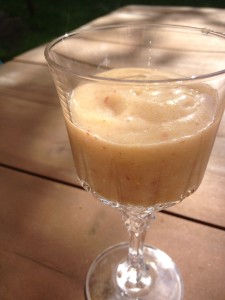 Old habits die hard.  It's difficult to change your thoughts, and your habits.  But worthwhile tasks are seldom easy, right?  This week, I'm going to challenge you to rethink your dessert and what you put into your mouth before bed.  To trade in the sweets at night.  It's not always been my way of thinking.  In fact, I've generally allowed for a small treat each night after dinner.  However, the more I learn about recovery, and our bodies own hormonal balances, ebbs and flows, and cycles, the more I see sugar before bed as a big problem.
This week's Loving the Bite will help you replace an old habit with a new one, and promote better recovery through the night.
Recipe of the Week: Super Recovery "Ice-Cream"
Ingredients:
2 cups frozen fruit such as pears, cut into 1-inch cubes if necessary
¼-1/2 cup coconut milk (from cream, such as canned)
1 scoop protein powder (20 gm protein) OR 6 oz. organic plain greek yogurt
1 tsp cinnamon
2 tsp (9-10 grams) l-glutamine powder (optional)
Instructions:
Cut pears into small one-inch cubes.  Freeze on greased cookie sheet for approximately 2 hours.
Place frozen fruit, protein powder/yogurt, cinnamon, and optional l-glutamine in blender.  Begin to blend, adding coconut oil (only as much as needed to get fruit blended…too much will result in a smoothie rather than ice cream).  Blend until desired consistency.
Eat 1-2 hours before bed.
Serves 4, approximately 2/3 cup each serving. Nutrition Information: 85-125 calories, 9 grams carbs, 2 grams fiber, 4-6 grams protein
To use for Recovery after Your Ride: Since you need more carbs immediately after a hard ride, consider eating 1.5 servings and drizzling 1 Tbsp raw/organic honey on your serving.  If you finish training late in the evening, eat as written without extra carbs.
Comments:
One of the main hormones at play in cellular and muscular recovery is Human Growth Hormone.  And, like it or not, it has everything to do with dessert.  Over 50% of our daily dose of HGH is released by the pituitary just 1-2 hours after we reach deep sleep.  It just so happens that an intake of sweets and sugars, and therefore an increase of insulin in our systems interferes with HGH release, reducing its effects.  Why is HGH so important?  It:
Improves cellular recovery, protein synthesis,  and increases muscle mass
Stimulates the immune function
Promotes fat breakdown
Increases calcium retention and improves the mineralization of bones
How can you optimize your body's release of nightly HGH and recovery?
Avoid high amounts of carbohydrates, especially highly refined ones likes starches and sweets, before bed
Consume nutrients that improve blood sugars and reduce insulin needs such as coconut fats, proteins, and cinnamon
Give your body adequate protein for recovery and specific amino acids used by skeletal muscles such as l-glutamine
Prioritize sleep and do what you can to reach deep sleep with a total average of 6+ hours of sleep per night
Of course, you could certainly skip dessert altogether if as long as you've already consumed the nutrients you need each day for optimal recovery and aren't tempted by desserts.  This is fine.  But, there's nothing wrong with a small snack after dinner as long as it helps your reach your overall goals for recovery and performance.
Bonus: Click Here to Watch Kelli's Short Video on L-Glutamine
This week, replace an old habit with a better one.  Rethink your dessert (at least 80% of the time).  If your priority is performance and recovery, you can still have a satisfying treat before bed.  Just make it one that will make you a better cyclist and not work against you.
Fuel Your Ride.  Nourish Your Body.