Loving the BITE: Sweet Potato Quinoa for Lunch, Carb Load, & Recovery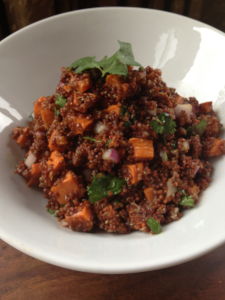 Sometimes my lunch is boring. As in same ol' yawn-inducing boring. How 'bout yours? Other times, I have a stroke of genius and come up with a great meal that is nourishing, energizing, and exciting (as exciting as lunch can be, anyway). If you're packing your lunch, you may go through these ups and downs as well. This week, I've got a cure for the lunch-time bore.  And, it just happens to be a recipe so versatile, and so good for your body, that it can be used for many meals as well as a boost in long-lasting carb loading and recovery.
Quinoa (keen-wah) and sweet potatoes can do great things for your body. In fact, quinoa was used by ancient warriors to improve stamina and strength. Ready to conquer your afternoon like a warrior?
Recipe of the Week:  Sweet Potato Quinoa Stamina Warrior Food
Ingredients:
1 3/4 cups quinoa
1.5 cups chicken or vegetable broth
Kosher salt
3 tablespoons coconut oil
1/2 red onion, thinly sliced
2 garlic cloves, minced
1/2 – 1 tablespoon ancho or chipotle chile powder (this can get hot!)
1 teaspoon ground coriander
1 teaspoon ground cumin
1 small jalapeno pepper, seeded and thinly sliced
2 small yams or sweet potatoes, cut into 1/2-inch pieces (peeled or unpeeled)
1/3 cup chopped fresh cilantro
juice of 1 lime (~2 Tablespoons)
Instructions:
Place the quinoa in a bowl, cover it with water, and then drain. Repeat this step twice, and drain well each time. (helps remove bitterness)
Next, transfer the drained quinoa into a medium pot; cook over medium heat, stirring constantly for about 8 minutes (until quinoa is dry).  Then add broth, 3/4 cup water and 1/2 teaspoon salt. Bring to a simmer, and then lower heat to medium-low, cover (allowing steam to exit) and cook for about 15 minutes until all liquid is absorbed.
Meanwhile heat coconut oil in large skillet over medium heat. Add onion and garlic and saute about 4 minutes. Add chile powder, coriander and cumin and cook, stirring constantly, about 1 minutes. Add 1.5 cups water, jalapeno, sweet potatoes and 1/2 teaspoon salt.  Increase heat to medium high and bring to a simmer.  Cook, stirring occasionally until sweet potatoes are tender and liquid is absorbed, about 15 minutes.
Add in quinoa, cilantro, and lime juice. Toss, season with salt, and serve.
How to Eat:
Breakfast, Lunch: Makes a delicious meal especially with a fried egg on top!
Dinner: Perfect for a smart carb-load before a big ride – these long-lasting carbohydrates will last 'til the next day in terms of energy.
Recovery: Add some extra protein with an egg, cottage cheese, meat, organic tofu, etc., for a great recovery.
Cooking Tip: This meal provides 6 servings, so make 1 or 2 batches to have ready throughout the week for any of the above meals. Store in the refrigerator for up to 3 days, or freeze individual servings and reheat.
(recipe adapted from foodnetwork.com)
Comments:
Just what is quinoa?  The simple answer is it's a pseudo-grain seed that's closely related to vegetables like spinach and Swiss chard.  Huh?
No matter its biological category, quinoa is a wonderful, complete nutrition, whole-food seed that's packed with nutrients.  Because of its texture and versatility, it's often used in place of grains such as rice.  Here's what a little quinoa can do for you:
Reduce migraines and headaches: Magnesium, found in quinoa, relaxes constricted blood vessels that contribute to migraines.
Reduce risk of heart disease and high blood pressure: Along with reducing migraines, magnesium's relaxation of blood vessels can reduce high blood pressure, ischemic heart disease and heart arrhythmias.  Quinoa's high level of antioxidants also reduces the ability of "bad cholesterol" to become oxidized and form plagues in arteries.
Decrease oxidative stress and damage from free radicals: Quinoa is a very good source of another mineral, manganese.  Manganese is a cofactor for an enzyme called superoxide dismutase which works as an antioxidant to protect the mitochondria of cells.  How can this help cyclists?  The mitochondria are responsible for much of the cells' energy production – they are extremely important cellular components prone to oxidative damage in the absence of antioxidants.
Provide fiber to decrease risk of heart disease, breast cancer, diabetes and intestinal issues: Quinoa is a good source of both soluble and insoluble fibers.  Soluble fiber helps reduce bad cholesterol and spikes in blood sugar; and, it feeds healthy bacteria in the intestines.  Insoluble fiber keeps the gut in shape and triggers hormonal responses that improve immune function and overall health.
Supply lignans to protect against heart disease:  Like flaxseeds, quinoa is a good source of lignans, a powerful phytonutrient.  Lignans reduce our risk of hormone-dependent cancers and heart disease.
Provide a gluten-free grain alternative: For cyclists going gluten-free, quinoa provides a grain-like food that's completely wheat and gluten-free.  It can be easily substituted for couscous, rice, and oats.
And, sweet potatoes are no slouches. Here's what they pack for you.
This week's star? Quinoa! Pronounced keen-wah, it can be your new favorite pseudo-grain seed.  Eat it and get protein, whole-food carbs, vitamins, minerals, antioxidants, and fiber.  Eat it for a non-boring lunch (or any meal), carb-load or recovery. Eat it and improve stamina and power just like ancient warriors. 
Fuel Your Ride.  Nourish Your Body. 
image c/o figandbasil.com