Loving the BITE: Will Ride for Lemon Cookies
I cried when my kids headed by to school a few weeks ago, but not for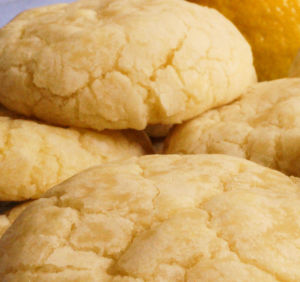 reasons you may think. This summer I was spoiled, I'll admit it. My 8 year old became the household pastry chef, making a new batch of homemade cookies weekly (no, no, he didn't use the oven, but he learned fractions and mixed everything up to baking). Let's just say I had great ride fuel all summer long. Because you all know I'll ride for cookies.
These were some of my favorites:
Recipe of the Week:  Luke's Light & Airy Lemon Cookie Cycling Fuel
Ingredients:
1/4 cup butter, softened
1/4 cup organic coconut oil, softened
1 cup sugar
1/2 tsp vanilla extract
1 whole egg
2 tsp lemon zest + 1 Tbsp fresh lemon juice
1/4 tsp salt
1/4 tsp baking powder
1/8 tsp baking soda
1 1/2 cups all-purpose flour
sea salt, optional
powdered sugar, optional
Instructions:
Cream butter, coconut oil, and sugar together in large bowl.
Whip in vanilla, egg, lemon zest, and juice.
Stir in dry ingredients until combined (excluding salt and/or powdered sugar).
Place dough in refrigerator for 15-30 minutes.
Pre-heat oven to 350 deg F.  Grease baking sheets and set aside or prepare parchment paper on baking sheets.
Form dough into 1-inch balls and place on prepared cookie sheets. Place all ingredients in large baking dish.
Bake for ~10 minutes or until bottoms begin to slightly brown and cookie no longer look shiny.
Remove from oven and cool a few minutes before moving to a cooling rack. Enjoy!
If enjoying as a treat, sprinkle with powdered sugar (optional).
If enjoying as ride fuel, sprinkle with just 1/12-1/24 tsp sea salt per cookie (adds 100-200 mg sodium).
Comments:
It's no secret that lemon is one of my favorite flavors in general, and especially for riding fuel. Why? In my opinion, it's refreshing, has a tart taste that balances the sweet carbs, and it doesn't get old. And while some of our previous cookie fuel recipes contained a bit more protein and substanance for longer rides (oatmeal cookies, peanut butter cookies, lemon bars), these mostly-carb light and airy cookies are good quick-fuel for rides of any length. And our star ingredient, lemon, provides some extra benefits:
High levels of Vitamin C, a powerful antioxidant that works in the body to fortify the immune system, fight free radicals that can build up during intense physical work, and reduce the symptoms of osteoarthritis.
Anti-nausea properties.  When you're nauseous, not many things help.  However, the smell and  taste of lemons can provide relief.  Since many athletes feel slightly nauseous when eating on the bike, including fresh lemons can ease an unsettled belly.
Anti-bacterial compounds.  These components of citrus can reduce putrefactive bacteria in both the intestines and the mouth, and thereby provide fresher breath and reduced gastrointestinal distress.
Mucus-busting action provides relief to athletes who suffer from build-up while training.  If you ever feel like you're constantly "working the junk out of the lungs," you've got a friend in lemons.
Unique flavonoid compounds that have anti-cancer properties.  In fact, limonoids have been shown to help fight cancers of the mouth, skin, lung, breast, stomach and colon.
Issues in temperatures over 78 deg F: Anytime you use a coconut oil-based recipe, you'll have some issue with them melting and falling apart when their environment is warmer than about 78 deg F (temperature at which coconut oil melts).  When I'm riding in the Spring/Summer, I often smash these into balls rather than leaving them as cookies…as smashed as I can get them…they hold up better. Or, I simply eat them right out of the baggie, like you would a gel – kind of. In this case I actually appreciate not having to chew as much when I'm working hard on the bike. I always find it annoying when I bite into something hard-to-chew when I'm breathing hard from pedaling. Alternatively, if this is a deal-breaker, try either freezing the prepared cookies ahead of time OR leaving out the coconut oil and using 1/2 cup butter (although I don't recommed the latter since coconut oil is a valuable fuel).
For lasting energy with fresh lemony flavor, eat 1-2 small cookies per hour along with your preferred drink. The lemon will give you a great flavor, energy for a strong ride, have fresh breath, less mucus, and not one hint of nausea.  In the long run, you'll reduce risk of cancers and fortify your immune system when you add more lemon to your diet. Next summer can't get here fast enough…until then, I'll be in the kitchen as the substitute household pastry chef/fuel maker.
Fuel Your Ride.  Nourish Your Body.