Making a Connection With Your Gels
I'm not saying that cyclists need to take energy gels or bloks, but if you're going to take them I do feel that you need to use the ones that work best with your body.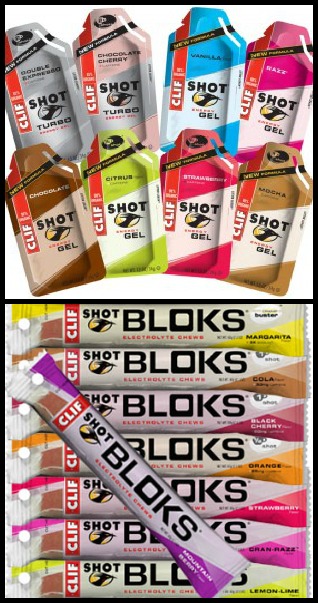 As I've said many times before, I don't promote a product just because they support this website or pay to advertise here.  A perfect example of this is my connection with Clif Bar and their products.  They are a great supporter of Loving the Bike, but there is absolutely no requirement by me to do any articles or online promotion for them as part of this relationship.  When I talk about them, it's simply because of how I feel as a customer.
A couple years ago I had flirted with gels, but every time I took them I seemed to get a cramp in my stomach while out on a ride. Because of this, I rarely used them.  About a year ago I formed this great relationship with Clif Bar and have been given the opportunity to try out all their products.  I started taking their Clif Shot, but was a little concerned that they would cause the same problems I had experienced with other brands in the past.
I'm completely honest when I say that the Clif Shot is the first gel to not cause any stomach issues for me.  Because of this (and because I am overloaded with them) I use them on more rides than I probably need to.  I started off taking them only on long rides, but now take them on days when I feel I need a little extra boost (physical or psychological).
The same thing goes for their Shot Roks.  I've had no stomach issues with them either.  Shot Bloks are quite similar to Shots in that they provide carbohydrates to supplement exercising muscle glycogen supplies, but I tend to prefer taking the Shots.  The one advantage of the bloks is that you can take them in smaller doses and space them out as needed.
If you'd like to learn more about how to schedule shot bloks or gels on a ride, here is what our nutritionist Kelli recommends (3 Bloks are about the equivalent of 1 Gel or Shot): Scheduling Shot Bloks.
I have nothing against the other brands out there and I'm sure you'll personally connect to one in the way that I did with Clif.  Try out a whole bunch of different types and see what works best with your body.
On top of the stomach cramps there were also some brands that I just didn't really like the taste or consistency of.  Each brand seems to have their secret formula so you'll also need to take a look at what they put in their ingredients in making your decision as well.  Some include caffeine, ginseng, honey, and other additives so use the ones that agree with your body and include the things you're personally okay with.
I'm not here to tell you why you should use gels, just wanted to explain that all gels are not equal.  If you're going to use them…..make your selection based on connection rather than good marketing.