Mountain Bike Pioneer
I may not be an extreme mountain biker like some of you out there, but lately I've been feeling like a mountain bike pioneer….and making it happen on the Grenada off-road trails.
On my tropical island of Grenada, there are not too many mountain bikers around…heck, there's not that many cyclists in general.  There are a few people who use the bike for transportation, some who train for road and triathlon racing, and some who just meander around because they love riding….but the number of hardcore mountain bikers is significantly small.  Possibly even non-existent.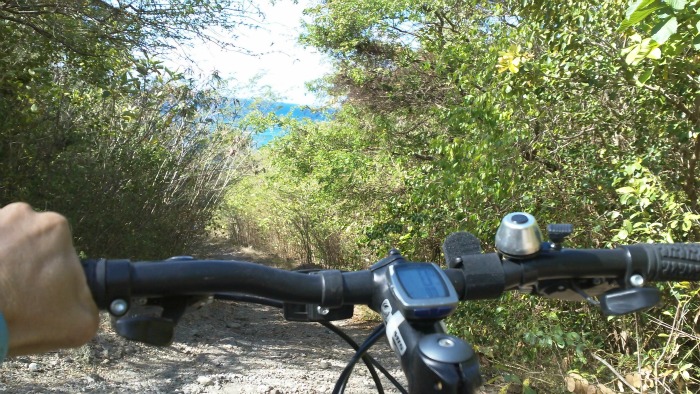 I do know of one guy who claims to have ridden every inch of this island and cycled through every trail, and I think he's the only one to have ever ventured down these trails on a bike.
But I know there are more trails, and that's what I've set out to unearth.  Christopher Columbus may have been the pioneer who discovered Grenada in 1498, but I'm going to be the mountain bike pioneer who rides some virgin trails in 2013.
My buddies over at Singletracks.com have even added Grenada to their worldwide directory of mountain bike trails so that I can be the first to include our mountain bike trails on their site.  So far I've included the Mt. Hartman trail which takes you over to the Hog Island bridge if you make a slight detour.  Here's the link to the Mt. Hartman trail I posted on Singletracks.  They happen to have the largest trail directory, and I'm hoping to make it even bigger.
One thing I've learned so far is that you need a lot of patience to be a pioneer.  I've rode down so many trails only to find them become so thick that they can't be ridden, or ventured into some private property with angry sounding dogs, or something else that has made me have to turn around and come back.  For every 5 trails I've set off to discover, only about 1 of them turns into something ride-able.
But I'm going to continue exploring Grenada's great unknown on a bike.  It's not a huge island, but there's plenty of mountains and rainforest to get lost in.
Here's hoping I don't come across that juvenile Anaconda that was recently located on the island.  Yeah, what a crazy story…turns out some guy on the island has had a pet Anaconda for a few years and it escaped.  Grenada has a few harmless snakes around, but the thought of this thing creeping on the island spooks me a little bit.  Yeah, I guess I never should have watched that movie "Anaconda" when I was younger.
I'm sure there are new bike paths to be discovered where you are as well.  Come join me and be a mountain bike pioneer of your own.